MAINE TOWNSHIP HIGH SCHOOL DISTRICT 207
BOARD OF EDUCATION
2020-2021
Aurora Austriaco – Vice President
Paula Besler – President
Teri Collins
Linda Coyle
Jin Lee
Carla Owen
Sheila Yousuf-Abramson
Unless otherwise advised, all meetings will begin at 6:00 p.m., and will be held in the Board Room of the
District 207 Administration Center, 1177 South Dee Road, Park Ridge
OUR MISSION IS TO IMPROVE LEARNING
MAINE TOWNSHIP HIGH SCHOOL DISTRICT 207 STATEMENT OF PURPOSE
Together we educate students to be informed, inquisitive, responsible, creative and reasoning individuals.
The following goals represent the commitment of District 207 to develop all students according to their individual potential.
GOALS
● All students will read, write, speak and listen effectively in English.
● All students will recognize their responsibilities as members of a family, the school, the community, the nation,
and the world.
● All students will recognize their responsibilities as stewards of the environment.
● All students will demonstrate an understanding of and be able to apply the important concepts in
mathematics, language, social science, the natural and physical sciences, the fine and/or applied arts and
will recognize their interconnections.
● All students will demonstrate an understanding of the American heritage and other cultures of the world.
● All students will develop the habits necessary to conduct research, engage in problem-solving, and make
informed decisions through analysis, synthesis, and evaluation.
● All students will demonstrate cooperation, respect for themselves and others, commitment to quality
performance and will recognize the value of teamwork and leadership.
● All students will demonstrate an understanding of the principles and applications of technology.
● All students will develop the skills of self-direction which they will use to engage in life-long learning, prepare
for one or more careers and pursue physical and emotional well-being.
● All students will have the opportunity to participate in a wide variety of co-curricular activities and
interscholastic competitions.
As a matter of policy, the race, color, religion, national origin, ancestry, age, sex, sexual orientation,
marital status, handicap, disability, unfavorable discharge from military service, or any other unlawful
basis of discrimination, including harassment as defined and provided by the Illinois Human Rights Act
and all other applicable state and federal laws shall not be considered either a qualification or
disqualification of any applicant.
Maine Township High School District 207 Administration
Dr. Kenneth Wallace Superintendent
Gregory Dietz Assistant Superintendent – General Administration
Shawn Messmer Assistant Superintendent – Instruction
Mary Kalou Assistant Superintendent – Business
Jill Geocaris Innovative Adult Learning Coordinator
George Dagres Assistant Superintendent – General Administration
MAINE SOUTH HIGH SCHOOL
HOURS: MONDAY THRU FRIDAY – 7:00 A.M. – 3:30 P.M. – (847) 825-7711
Administration Ext.
Ben Collins Principal 8207
Iris Smith Associate Principal HR & Operations 8209
Dave Berendt Associate Principal Student Experience 8218
Melissa Dudic Associate Principal Teaching & Learning 8021
Melissa Pikul Associate Principal Student Services 8215
Jen Korbar Assistant Principal (A-G) Black 8169
Kyleen Coia Assistant Principal (H-O) Red 8167
Andrew Eder Assistant Principal (P-Z) White 8168
Carlos Panizo School Resource Officer 8170
Department Chairs
Matthew Ryder Athletic Director 8094
Erica Tuke Career and Technical Education 8099
Melissa Dudic Driver Education 8218
Julianna Cucci English 8139
Teralyn Keith Fine Arts 8239
Tona Costello Foreign Language 8134
Dawn Bodden Mathematics 8155
Don Lee (Lead Teacher) Physical Education 8090
Daun Biewenga Science 8156
Jenne Dehmlow Social Science 8140
Laurel Grogger Special Education 8164
Student Personnel
Meghan Wood Counselor 8175
Trisha Conlon Counselor 8184
Stephanie Maksymiu Counselor 8098
William Milano Counselor 8187
Cris Villalobos Counselor 6389
Erin Sanchez Counselor 8182
Timothy Spiegel Counselor 3791
Diane Spillman Counselor 8069
Robert Tortorelli Counselor 8176
Robyn Moreth Career & College Admission Specialist 8185
Brenda Keeley Nurse 8633
Peggy Kendrick Nurse 8199
Kerry Bellville Registrar 8212
Lisa Buckley Social Worker 8678
Janet Radziszewski Social Worker 6373
Bradley Wolcott Spec. Ed Social Worker 8061
Carly Biggins Psychologist 8060
Jennifer Weber Psychologist 8505
Steve Mihalopoulos Psychologist 8165
Services
Bob Braico Director of Building & Grounds 8230
Rita Antoni Bookstore Manager 8201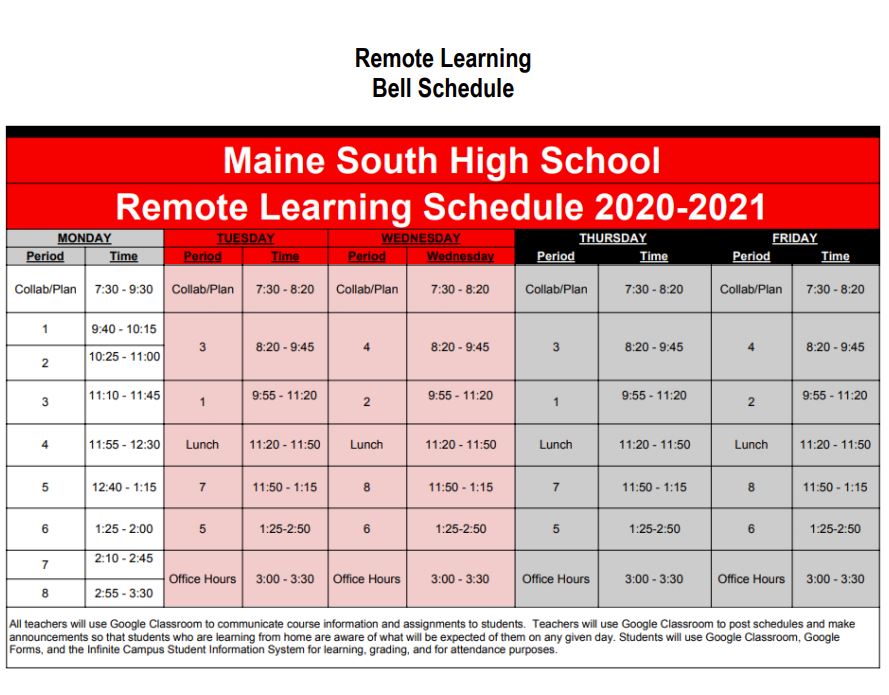 Remote Learning Guidelines
ACCESS TO THE BUILDING & CAMPUS DURING REMOTE LEARNING
Anyone entering the building must show proof of Self Certification (by displaying the results from their survey on their device) and have their temperature taken by security .
Monday – Friday 7:00 am – 3:30 pm
Door 3 (Main Entrance)
Door 9 (Middle Entrance to A-wing)
Door 53 (Entrance near Spectator Gym)
Attendance
All students are expected to attend their classes virtually at the assigned times outlined in our Full Home Learning schedule. Students will be required to enter a self-attendance check via the Infinite Campus portal by 12:30 pm each day. This once a day check-in assures the school personnel that the student has Internet connectivity and access to virtual learning materials, and will mark them as present for all the virtual classes scheduled for that day. In cases where a student is scheduled for regular in person learning, the teacher will enter attendance as usual for those classes Failure to submit a self check-in will result in absences marked for each class that day, and trigger automated text message reminders. If a student forgets to complete the check in, but participates in learning activities that day, a parent or guardian should call the school that evening or the next morning to mark the virtual absence as excused.
Parents must call the attendance office to alert the school if a student is unable to participate in either in-person or virtual learning activities for any reason, (including illness, doctors appointments, Covid symptoms, possible Covid exposure, internet connectivity issues, etc.), in order to excuse their absences. If a student is quarantined, experiencing mild symptoms, or for other reasons unable to attend school on a day they are scheduled for in person learning, they can and should participate virtually if practical. However, in this situation, a parent or guardian must still call the attendance office to excuse the in-person absences, as teachers will have to indicate
that they are absent from in-person instruction in Infinite Campus. This will help families avoid unnecessary automated text or phone call alerts related to absences.
Students are expected to participate in virtual learning and/or in-person activities each school day and keep up with activities and assignments. A combination of attendance, participation, and work completion will be used
to determine interventions for students.
Learning From Home Expectations for Students
● Students must log into class by the prescribed time to start class.
● Students are expected to be engaged with work for that class for that
day while that class period is in session.
● Students should plan to be engaged in learning during school hours
during days when they are learning from home.
Daily Schedule
Students will have 5 days of instruction each week and attend each of their classes three times a week virtually in a block schedule format. Mondays will be a home learning day with 8 periods. Additionally, some students may report to school throughout the week to facilitate in-person experiences as needed. This learning format allows for teachers and students to safely engage in learning while leveraging technology to differentiate instruction for students while adhering to the ISBE Guidelines. Students learning from home will be expected to log into their class via Zoom or Google Meet at the start of each class period in order to participate in learning synchronously from home for that class period. Students will follow the Full Home Learning outlined below.
Grading
Unlike in the spring, the State directive to hold students' grades harmless is not in effect; therefore, students will earn grades as they would in a traditional classroom setting. D207 will use a grading system of A through F and assign scores to assignments and assessments as would be typical in a fully in-person model of schooling. Some basic changes have been made to address the unique circumstances presented by learning in a blended environment in an effort to support students.
● Students who are not passing at the end of the semester will work independently over winter break and with support during the first two weeks of second semester, if needed, in order to earn a passing
grade.
● If a student does not earn a passing grade at the end of six weeks into the second semester, he/she will receive an NG (no grade and no credit given).
● Teachers may still give a student an incomplete ("I") in consultation with Student Services for unique circumstances. Incompletes will need to be completed by the end of the 6th week of second
semester.
Visitors
Visitors should only come to school buildings to conduct business that cannot be conducted remotely. Visitors to any building must always wear an appropriate and approved face covering and report directly to the main office for a wellness screening, including a temperature check. Visitors will remain in the main office or other designated area for the duration of the visit. Students or staff will be asked to meet the visitor to conduct business as needed. Visitors will not have general access to the building in order to maintain physical distancing.
All visitors entering the building must participate in the screening process in addition to typical sign in procedures:
Live Streamed and Recorded Lessons
Maine South Safety Guidelines
Security Protocol for Entering the building
Health Office -Covid 19 Guidelines for Parents/Guardians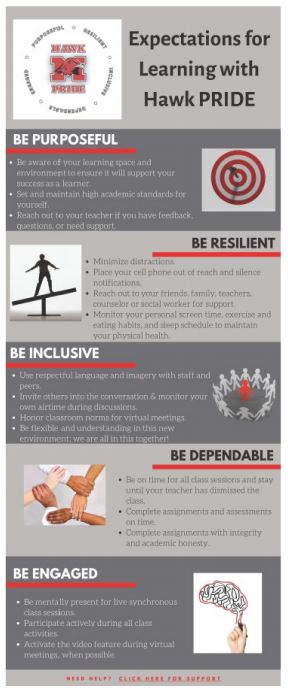 ATHLETICS AND EXTRACURRICULAR ACTIVITIES
DISTRICT 207 EXTRACURRICULAR ACADEMIC ELIGIBILITY POLICY
Any student who is a member of an extracurricular team/organization that represents a Maine Township school
in competition against another school must meet an academic eligibility standard. Participants in clubs or
organizations that are not involved in the competition are not subject to this eligibility requirement.
The student must meet two academic standards:
● earned five full semester credits of high school work (exclusive of Drivers Ed) for the previous
semester, and
● be currently passing at least five-semester credit high school courses (exclusive of Driver's Ed) each
week.
The student must meet both these standards. Once meeting the initial eligibility the student must maintain
eligibility on a week-by-week basis. A student not meeting the initial requirement is ineligible for the entire subsequent semester and may not join the team or practice with the team for that entire semester. If a student is already on a team when the semester ends and does not pass the five-semester credit courses, he/she becomes immediately ineligible for the remainder of the semester.
A student who does not meet initial eligibility may not practice with the team. A student who becomes ineligible
on a week-by-week basis may practice. The decision regarding practice is made after the coach/sponsor confers
with the student and they discuss how the student will remedy the academic problem. Note: IHSA by-laws
(3.141) prohibit an ineligible student to be in uniform on the team bench at a contest.
Passing work is defined as work of such a grade that if on that given date the course would be completed, a
passing grade would be earned by the student. It is the student's cumulative grade in the course up to that given
date.
Credit earned during summer school may be used to supplement the spring semester credit in order to meet the
initial eligibility requirement.
Academic status is monitored through the District #207 Data Processing System using the DAI and DAL screens. Teachers input academic information weekly through the period-by-period attendance system. Only students whose names are entered into this data system may participate in competitive interscholastic extracurricular activities and appear on team rosters.
The responsibility for determining eligibility after interpreting students' pass/fail status rests with the department sponsoring the activity. That department will communicate all eligibility information to the appropriate sponsor/coach and the student's counselor.
ONLINE RESOURCES – ATHLETICS
Updated schedules and information can be found on the Maine South Athletic Website.
Illinois High School Association (IHSA) www.ihsa.org
The IHSA web page is the most valuable source for high school athletics. On this page you can access
information on the IHSA state series in each of the 31 interscholastic sports. This includes pairings, times and
locations for all Regionals, Sectionals and State tournaments. In addition, in football, you can find the schedules
and conferences for every football school in the state. Scorezone will give you the most immediate results and
scores of all state series contests. The IHSA site also has a section on state records in which you can find
individual and team records for virtually every sport in the state. You are also able to access the IHSA Handbook
that contains the IHSA by-laws. These by-laws regulate every phase of high school sports in Illinois.
Perhaps the most valuable part of the site is the School Directory. Here you can find the address and phone
number of every high school in the state. More importantly, you can link to a map that will guide you from your
home directly to the school to which you want to travel!
National Collegiate Athletic Association (NCAA) www.ncaa.org
The NCAA regulates all Division I, II and III college athletics. If you are considering participating in competitive
athletics beyond high school there are a number of issues and items you must address and of which you should
be aware. The most important of these is academic eligibility for college athletics and the NCAA Clearinghouse.
Information on these can be found at the NCAA's web site.
2020 2021 ATHLETICS
(Updated schedules and information can be found on the MSHS Athletics Website)
Before any student can participate in a practice or a tryout for a sport, the student's parent must register the
student online using 8 to 18 Registration and turn in a physical signed by the physician into the Maine South
Athletic Office. Physicals are valid for 395 days from the examination date. The website to register for sports
is: http://mainesouth.8to18/com. If you plan to participate in a fall sport, it is best to have both parts completed
by the beginning of August. Registration for fall sports teams will open starting June 1st.
Sports Head Coach
Boys' Cross Country Mr. Nordahl
Baseball Mr. Lorenz
Football Mr. Inserra
Boys' Lacrosse Mr. Staffel
Boys' Golf Mr. Scholl
Boys' Tennis Mr. G. Smith
Boys' Soccer Mr. States
Boys' Track Mr. Kacprowski
Girls' Cross Country Mr. Downing
Boys' Volleyball Mr. Granell
Girls' Golf Ms. Hansen
Boys' Water Polo Mr. Lyons
Girls' Swimming Mr. Kura
Girls' Badminton Mrs. Muir-Wilson
Girls' Tennis Mr. G.Smith
Girls' Lacrosse
Girls' Volleyball Ms. Durkin
Girls' Soccer Mr. Crawford
Girls' Softball Ms. Pasier
Girls' Track Mr. Downing
Girls' Water Polo Mrs. Rehm
Boys' Basketball Mr. Lavorato
Boys' Swimming Mr. Kura
Wrestling Mr. Hansen
Cheerleading Ms. Prater
Girls' Basketball Mr. Hamann
Girls' Gymnastics Ms. Robinson
Hawkettes Dance Team Ms. Gibbons
Clubs and Activities
The list of clubs and activities can be found at: https://south.maine207.org/clubs-activities-student-organizations/
STUDENT SERVICE TEAMS
Each SST is made up of an Assistant Principal who functions as a Team Leader, counselors, a social worker,
and is supported by the teachers, a psychologist, a nurse, and office personnel. Attendance, counseling, social
work, and behavioral interventions are all a part of the SST's responsibilities. These Teams meet weekly to
review the academic performance and social-emotional well-being of the students on that team's alphabetic
caseload. When a student is identified as not performing near mastery the Team uses a systematic approach
to review all relevant data and information to problem solve and implement appropriate interventions. Contact
your child's Student Service Team with any concerns, issues, or questions. The attendance, discipline, and
guidance functions have been combined into three Student Services Teams (SST). These teams are divided
alphabetically.
Please click below for information provided by the Student Service Teams
Where Do I Go For…..
A-G – Team Black
Team Leader (Assistant Principal) – Jennifer Korbar
Counselors – Robert Tortorelli
Erin Sanchez
Timothy Spiegel
Social Worker – Lisa Buckley
Psychologist – Steve Mihalopoulos
Attendance Line – (847) 692-8213
Student Service Team Line – (847) 692-8171
H-O – Team Red
Team Leader (Assistant Principal) – Kyleen Coia
Counselors – Trisha Conlon
Stephanie Maksymiu
Cris Villalobos
Social Worker – Brad Wolcott
Psychologist – Carly Biggins
Attendance Line – (847) 692-8216
Student Service Team Line – (847) 692-8203
P-Z – Team White
Team Leader (Assistant Principal) – Andrew Eder
Counselors – Meghan Wood
William Milano
Diane Spillman
Social Worker – Janet Radziszewski
Psychologists – Jennifer Weber
Attendance Line – (847) 692-8204
Student Service Team Line – (847) 692-8170
Career & College Admission Specialist – Robyn Moreth
Career Coordinator – Laura Wilkens
SCHOOL COUNSELING
School counselors in their Student Services Teams provide many services to students and parents including a
four-year developmental guidance program that ensures that every student in the Maine high schools receives
the same curriculum related to guidance.
Many of the guidance-related activities are initiated by students, parents and school personnel as needed.
Counselors try to anticipate and react to the needs of students and parents. However, for counselors to be most
effective, it is important that there be open communication between the home and school. Parents may make an appointment by calling the counselor to whom the student is assigned. A number of specialists are available to assist students and their families. The school social worker, psychologist, nurse, reading consultant, speech therapist and special education staff are available on recommendation or referral basis through the counselor. Parents may also contact the social worker directly. The career counselor is a resource person for students, parents and staff.
Work permits are also available from the registrar in the Student Personnel Services Department in the main
office.
Career & College Resource Center
The Career & College Resource Center (CCRC) located in room C147B provides a wealth of information about
career and college options. Resources include several computer-based career and college search programs, printed and audio-visual materials, part-time employment opportunities, military careers, and an extensive collection of books and pamphlets on careers, colleges, technical schools, scholarships, and financial aid. Appointments for juniors and seniors to meet with one of more than one hundred and fifty college representatives
are scheduled through the CCRC.
Robyn Moreth, the Career & College Admission Specialist, is available to assist students and families virtually
and will begin meeting with Juniors mid-November. To contact: [email protected]. To make an
appointment with Mrs. Moreth: https://calendly.com/rmoreth
Laura Wilkens, Career Coordinator is available to meet with students as well to discuss employment and
volunteer opportunities, internships and career exploration. To contact: [email protected] To make an
appointment with Mrs. Wilkens: https://calendly.com/lwilkens
Graduating seniors receive standard diplomas. Diplomas from the three Maine Township high schools differ from
another only in the identification of the school. No diploma refers to the course of study pursued by the graduate
nor to the graduate's academic record.
SAT Testing Dates
October 14th (April State Exam Make-up Date) – Current Seniors are automatically enrolled
November 7th – Registration Deadline October 7th
April 13th
Health Office Information
The Mission of the Health Office is to enhance the educational potential of all students by promoting wellness
and facilitating the resolution of health concerns which create barriers to learning. Teens are encouraged to
develop skills they need to take ownership and responsibility for their own health and wellness. The Health Office is staffed by a full time certified school nurse, a registered nurse and secretary. Students are assisted with immediate health concerns, injuries and chronic medical challenges. Emergency care is provided, however, the Health office is not a substitute for the family physician who is the person to be consulted for diagnosis and treatment. The School Nurses work closely with all members of the student services teams which includes deans, guidance counselors, school psychologists, and social workers.
Physical and Immunizations
Under State law, all incoming freshman are required to have a current health examination along with required immunizations. Transfer students from in state/out of state/out of country, who have not previously had a 9th grade health exam/immunizations, will also need an updated physical/immunizations before attending classes. The required immunizations are:
(3) DTP-Diphtheria Tetanus and Pertussis
(1) Tdap (regardless of the interval since last DTap, DT or TD)
(3) Polio
(2) MMR – Measles, Mumps, Rubella
(3) Hepatitis B
(2) Varicella
(2) Meningitis (Menactra, MCV4) Applies to Senior students only
One dose after 11th birthday and 1 dose after 16th birthday.
Only one dose is required if the first dose was received at 16 years of age or older.
Unless the student is homeless, failure to comply with the above requirements will result in student's exclusion
from school until the required health forms are presented to the Health Office. A student may be exempted from this policy's requirement on religious or medical grounds. To receive religious exemption, parent/guardian must submit the Illinois Certificate of Religious Exemption Form which must be signed by parent and health care provider. A medical exemption can be given with a signed physician statement which can be attached to the student's Certificate of Child Health Examination form.
LIBRARY RESOURCE CENTER
● Please visit Maine South's Library Website
● For Questions please contact Ms. Ryan ([email protected]) or Ms. Kowalski
([email protected])
EARLY WARNING SYSTEM
The district has developed a system for gathering and analyzing student data with the purpose of identifying
students at risk of failing classes or not graduating on time. The type of data used in the early warning system
may include excused and unexcused absences or tardies, grades, credits or any other information District
personnel may identify as having value in determining students at risk. This information will be regularly reviewed
by Student Service Teams that will determine student needs, contact parents/guardians when appropriate, and
develop interventions which may include behavioral, counseling and academic supports.
ATTENDANCE
Attendance, both punctual and regular, is important to a student's success at school. It is also the mark of a
student's maturity and a sense of responsibility. It is impossible to recreate classroom experiences identical to
the ones students have missed. Although it is unfortunate and sometimes unavoidable for students to miss
class, MSHS encourages high attendance from all students.
FAILURE TO SIGN IN OR OUT AT THE APPROPRIATE STUDENT SERVICE TEAM'S OFFICE
When arriving late or leaving early, students are expected to sign-in or out with their appropriate Student Service
Team. Parent calls must be received prior to a student leaving school. Failure to sign in at the appropriate SST office at time of arrival or to sign out when leaving prior to normal dismissal may result in school consequences.
Students leaving early must obtain a pass from the attendance office in order to be excused from class.
ABSENCE FROM SCHOOL
Responsibilities of the:
– Students: To be on time to school and class so that his/her attendance can be taken in a timely manner. In the
event of an absence, the student must assume responsibility for seeking out and completing their assignments.
Students arriving late must sign in at the attendance office. Students leaving early must obtain a pass from the
student's SST office in order to be excused from class and then sign out at the attendance office prior to leaving
the school building.
– Parent/Guardian: To call the appropriate Student Service Team within 24 hours of the absence. No corrections
will be made after 24 hours and the absence may remain unauthorized. Messages are received 24 hours a day,
7 days a week.
When calling to report an absence, please state the following information:
● Student's first and last name
● Student's ID number
● Name of parent/guardian calling
● Reason for absence
● Time of late arrival or early dismissal
If the reason for the absence differs from the parent's, the student will be directed to the appropriate Student Service Team. If there are changes from the original message, parents must contact the appropriate Student Service Team.
School: To monitor the student's attendance and to inform parent/guardian of any attendance problems/concerns. The final decision for categorizing an absence rests with the school administration.
ABSENCE FROM SCHOOL – VALID CAUSES OF
Maine South High School, in keeping with Section 26-2a of the Illinois School Code considers the following circumstances to be valid causes for a student's absence:
● Illness
● Observance of a Religious Holiday
● Death in the Immediate Family
● Family Emergency
● Situations beyond the control of the student as determined by the Board of Education, or such other
circumstances that cause reasonable concern to the parent for the safety or health of the student.
ACCESS TO THE BUILDING & CAMPUS
For the purpose of safety and security of faculty/staff/students and campus, access to the building will be limited
as determined by the administration and to include, but not limited to the following:
On school days before school: Designated entry doors of the building are unlocked at 6:30 a.m. Students should
not expect access to the building prior to 6:30 a.m. unless under the supervision of a faculty/staff member.
During the school day, designated doors will remain unlocked for student/faculty access only.
On school days after school: The doors of the building are locked at 4:00 p.m. or 45 minutes after the last period
of the day. Students may not remain in the school building after 4:00 p.m. or 45 minutes after the last period of
the day unless under the supervision of a faculty/staff member.
The designated student drop-off and pick-up areas are located in the front-circle, jock lot, north lot and south lot.
Any student in the building during non-school hours without authorization and/or supervision will be referred to
their Dean and may be subject to school disciplinary action. Students should not open doors and/or allow access
to any person(s) from outside of the building. Any suspicious person(s) and/or activity should be reported
immediately to any Student Service Team member.
BUS BEHAVIOR
Students are expected to behave while riding the school bus including all school field trips, school sponsored
activities, public transportation and at bus stops. The bus driver is in legal charge of students' action and will
enforce all observed school rules. Students' misbehavior that may distract the bus driver is considered a major
offense. Damage to bus, any property of the bus company or any other violations involving misbehavior may
result in a loss of riding privileges, forfeiture of any fee and appropriate school consequences.
BUS TRANSPORTATION INFORMATION
Public transportation (Pace) operates between the school and local surrounding areas. For more information,
please visit the district's website or obtain bus route information in the Student Personnel Service office.
CAMERAS
To assist in maintaining security and to deter inappropriate conduct, the Maine Township High School District
207 Board of Education has authorized the installation of electronic video surveillance cameras in public areas
of school property, such as the parking lots, driveways, entrances and other locations on campus and in the
building. The passive use of electronic surveillance is primarily for the purpose of maintaining a safe and orderly
educational environment for students and staff.
DETENTIONS
When a student is assigned a detention by the dean, he/she must report to the detention room and depending
on assigned time, may serve the detention(s) before school OR after-school. Students should bring homework
and spend their time in productive work. Failure to serve a detention may result in additional consequences.
DROP-OFF AREA AND MESSAGES TO STUDENTS
In the event that it is absolutely necessary to drop off books, assignments, clothing, etc. for your child, please
drop off these items to the appropriate Student Service Team. Please note that the school is not responsible for
these items and will not contact your child to arrange the pick-up. The school does not accept lunches that are
dropped off. If your child needs to contact a parent/guardian, phones will be available in his/her Student Services Team area. It is difficult to deliver messages to students due to student's schedule, size of building, number of students and available staff to assist with this task. In extreme hardship or emergencies, students will be sought out and located if possible. The public address system will not be used for this purpose. In case of an emergency, please contact your child's counselor and/or dean.
EARLY RELEASE, LATE ARRIVAL AND WORK PROGRAM
Students who have an early release (work program) from school are expected to leave the building promptly at
the end of their last class. Students must carry their work program permit card at all times indicating a release
time. Seniors who have late arrival or early dismissal will be issued a permanent pass from their Student Services
Team indicating that they have either/both early release or late arrival. They are required to produce the pass if
asked. If the school day bell schedule has been modified, for an assembly, for example, it is the student's responsibility to remain in all of his or her classes until they are entirely over.
FORGED PASSES, including parking passes. Students who create or use a forged school document, such as
a parking sticker, are subject to school discipline, including but not limited to out of school suspensions and loss
of future privileges.
HALLWAYS
Students in the hallways after the passing period must have an authorized pass. Students are expected to obtain
an authorized pass from a teacher or supervisor before entering the hallways after the passing period has ended.
Students without an authorized pass will be directed to return to their original location.
ID CARDS
An identification card is issued to all students during registration. The student is expected to carry his/her current
student ID card while at school or while attending any school-related activity and is expected to present it to a
staff member upon request. Failure to do so may result in school consequences. The ID card is utilized in the
following areas but not limited to: food service, library, student activity ticket, lounge, resource areas, school
dances, athletic events and Student Services Team area. For replacement of the ID card, the student must report
to the ID office located in the bookstore. There is a $2.00 replacement fee for each ID. If the student loses or
misplaces their ID, it is the student's responsibility to contact Quest (food service) if they have money on the
student lunch account.
IEP
Students with disabilities who do not qualify for an individualized education program, as required by the federal
Individuals with Disabilities Education Act and implementing provisions of the School Code, may qualify for services under Section 504 of the federal Rehabilitation Act of 1973 if the child (i) has a physical or mental impairment that substantially limits one or more major life activities, (ii) has a record of a physical or mental impairment, or (iii) is regarded as having a physical or mental impairment. 105 ILCS 5/14-6.01
LUNCH
Students are expected to report directly to their scheduled lunch. It is the responsibility of the student to be on
time. After reporting to the cafeteria, students are to remain there until the period ends. Students are expected
to behave in an orderly manner in the cafeteria and are responsible for keeping eating areas, tables and
surrounding areas clean. Students may not take food or drink out of the cafeteria unless they have permission.
Any student referred to the Deans' Office for misconduct will be subject to disciplinary action that may include
removal from the cafeteria.
NURSE'S OFFICE
If a student is feeling ill, they should get a pass from their teacher to the nurse's office. If it is necessary to send the student home, the nurse's office will contact the parent/guardian to authorize the absence. Students will be expected to sign-out through their Student Service Team.
PARENTS OUT OF TOWN
It is the responsibility of the parents to inform the Student Service Team if they will be unavailable for a period of
time. The authorized person appearing on the student's emergency card must call the Student Service Team if
the student is absent from school. If another adult is designated by the parents to excuse their child from school,
a phone call from a parent identifying the temporary guardian must be received prior to the parents leaving town.
Failure to follow the above procedures may result in an unexcused absence.
PRE-ARRANGED ABSENCE(S)
Students who plan to vacation with parents, visit college, etc., should make arrangements a week before leaving.
Parents must call, the student must pick-up a form from his/her counselor and students should contact their teachers to obtain assignments and to schedule make-up activities.
REASSIGNMENT (REA)/IN-SCHOOL SUSPENSION
When a student is assigned an REA, he/she must serve the time as assigned by the dean. The student will be
responsible for the following:
● Completing all school related assignments and maintain a studious environment.
● Abiding by all District 207 discipline policies and procedures, REA rules posted in the classroom and instructions from the REA supervisor.
● Use of cell phones are not allowed
Failure to abide by the above stated expectations may result in a referral to their Dean. Failure to serve the
Reassignment (REA) may result in additional consequences.
DETENTION
When a student is assigned REA, he/she must serve the time as assigned by the dean and report to room C101.
Detentions may be served during the following times for unexcused tardies:
-Monday, Tuesday, Wednesday & Friday: 7:40am-8:00am or 3:25pm-3:45pm
-Thursday: 8:20am-8:40am or 3:25pm-3:45pm
Detentions may be served during the following times for disciplinary infractions:
-Monday, Tuesday, Wednesday & Friday: 7:30am-8:00am or 7:00am-8:00am
-Thursday: 7:00am-8:10am or 7:40am-8:10am or or 3:25pm-3:55pm
-Saturday: 7:30am-9:30am or 9:30am-11:30am or 7:30am -11:30am
The following expectations will apply:
● Students will complete the assigned Wednesday/Saturday REA as agreed upon with the dean.
● Students are required to come prepared to do school-related work.
● Students will do school related assignments and remain silent.
● No food or drinks.
● No radios or electronic devices allowed including iPods, cell phones and laptop computers unless prior authorization is given by the dean.
● No sleeping.
● All district discipline policies and procedures apply.
Students who fail to follow the above expectations will be removed from the Wednesday/ Saturday REA and sent
home and further discipline will be assigned
STUDY HALLS/RESOURCE AREAS
Students should use their scheduled study hall constructively on school related assignments, either in their
assigned study hall or by seeking assistance in other resource areas such as the Library, Writing Lab, Math Lab,
College & Career Resource Center (CCRC) or other approved areas.
Students should report directly to their assigned study hall or resource area. Depending on the resource area
or study hall, students will be required to scan their ID, sign-in, or a supervisor will take attendance.
It is the responsibility of the student to be on time and accounted for during study hall or resource area so that
his/her attendance can be taken in a timely and accurate manner. After students have reported to their assigned
study hall or resource area, they are to remain in the area until the period ends. Tardies, unauthorized absences
and unauthorized departures will be referred to their Dean and consequences may be assigned. Students that
meet with their teachers during their scheduled study hall period must have their attendance accounted for
otherwise the absence will remain unauthorized.
SUSPENSION FROM SCHOOL
Students assigned an out-of-school suspension may not be on the school grounds during the suspension period.
Students on suspension are not permitted to attend any school function and/or participate in any school activity
during the time of suspension.
Upon notification of suspension, students are responsible for contacting teachers to obtain assignments.
Arrangements must be made with the Dean of Students in advance in order to pick up any assignments and
materials from school.
TARDINESS TO SCHOOL/CLASS
Responsibilities of the:
Students: Students who arrive at school after 8:20 a.m. need to report immediately to their 1st period class.
Students who arrive after 8:35 a.m. must report to their appropriate Student Service Team.
Parent/Guardian: To call the appropriate Student Service Team as soon as possible to notify the school that
their child will be tardy to school. When calling to report a tardy, please state the following information:
● Student's first and last name
● Student's ID number
● Name of parent/guardian calling
● Reason for tardy
If the reason for the tardy differs from the parent's, the student will be directed to their Dean.
School: To monitor the student's attendance and to inform the parent/guardian of any attendance
problems/concerns. The final decision for categorizing an absence rests with the school administration.
UNAUTHORIZED AREA
Students must have proper authorization to enter areas not designated on their class schedule for that period of
the day. This includes but is not limited to hallways, resources areas (library, computer lab and nurse's office),
parking lots, forest preserve, Hamlin gate area, cafeteria, locker rooms, etc. Students who are in an unauthorized
area may be sent to the dean and may receive appropriate school consequences.
UNAUTHORIZED PHONE CALLS
A student calling or having someone else call the Student Service Team , in lieu of the parent, will be treated the
same as a forgery. See FORGERY/ALTERING INFORMATION in the school discipline procedures.
VISITORS
Upon arrival in the building, all visitors must report to door #3 located in the front circle. All visitors must submit
a valid driver's license or state issued ID to be scanned and checked against a sex offender database registry.
In addition, the visitor must provide the following information:
● Nature of Business
● If vehicle is parked on campus, the vehicle's make/model, color, license plate information and/or location
of parked vehicle.
If approved, a visitor pass will be issued and the visitor pass must be displayed around the chest area so that it
is visible at all times while in the building. All visitors to the school or school premises shall be expected to
conform and abide by the rules and regulations pertaining to that school. Maine South has the right and
responsibility to request identification of any person entering either the school building or its grounds.
Unregistered vehicles are subject to a ticket and/or tow. All vehicles entering Maine South High School property
are subject to being searched.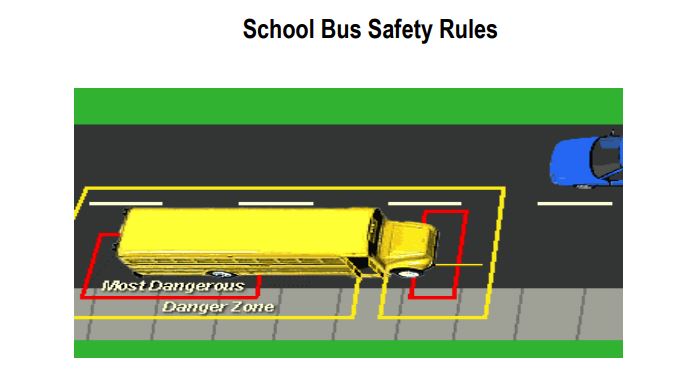 1. Dress properly for the weather. Make sure all drawstrings, ties, straps, etc. on all clothing, backpacks and other items, are shortened or removed to lessen the likelihood of them getting caught in bus doors, railings or aisles.
2. Arrive on time at the bus stop, and stay away from the street while waiting for the bus.
3. Stay away from the bus until it stops completely and the driver signals you to board. Enter in single file without pushing. Always use the handrail.
4. Take a seat right away and remain seated facing forward. Keep your hands, arms, and head inside the bus.
5. Talk quietly on the bus. No shouting or creating loud noises that may distract the driver. Tablets, iPods®, iPads®, smart phones, and other electronic devices must be silenced on the bus unless a student uses headphones.
6. Help keep the bus neat and clean. Keep belongings out of the aisle and away from emergency exits. Eating and drinking are not allowed on the bus.
7. Always listen to the driver's instructions. Be courteous to the driver and other students. Sit with your hands to yourself and avoid making noises that would distract the driver or bother other passengers. Remain seated, keeping your hands, arms, and head inside the bus at all times.
8. Wait until the bus pulls to a complete stop before standing up. Use the handrail when exiting the bus.
9. Stay out of the danger zone next to the bus where the driver may have difficulty seeing you. Take five giant steps away from the bus and out of the danger zone, until you can see the driver and the driver sees you. Never crawl under a bus.
10. If you must cross the street after you get off the bus, wait for the driver's signal and then cross in front of the bus. Cross the street only after checking both ways for traffic.
11. Never run back to the bus, even if you dropped or forgot something.
Additional resources follow:
National Highway Traffic Safety Administration – Traffic Safety Toolkit
one.nhtsa.gov/Driving-Safety/Community-Traffic-Safety/Community-Traffic-SafetyToolkit
National Safety Council – School Bus Safety Rules
www.nsc.org/news_resources/Resources/Documents/School_Bus_Safety_Rules.pdf
Illinois State Police – School Bus Safety
www.isp.state.il.us/docs/schoolbussafety5542.pdf
ISBE – School Bus Safety What Parents Should Know
www.isbe.net/Documents/bus_safety_parents.pdf
ISBE – Instructions To School Bus Riders (pg. 102)
www.isbe.net/Documents/bus_ride_instruct.pdf
ILSOS – Parent information flyer, games etc.
www.cyberdriveillinois.com/departments/drivers/traffic_safety/school_bus_safety/home.html
Offender Community Notification Laws:
State law requires schools to notify parents/guardians during school registration or parent-teacher
conferences that information about sex offenders and violent offenders against youth is available to the
public on the Illinois State Police's website. The Illinois State Police website contains the following:
Illinois Sex Offender Registry, www.isp.state.il.us/sor/
Illinois Murderer and Violent Offender Against Youth Registry, www.isp.state.il.us/cmvo/
Frequently Asked Questions Concerning Sex Offenders, www.isp.state.il.us/sor/faq.cfm
CPR and AED Video:
State law requires the Illinois High School Association to post a hands-only cardiopulmonary resuscitation and automated external defibrillators training video on its website. The law also requires the District to notify staff members and parents/guardians about the video. You are encouraged to view the video, which will take less than 15 minutes of your time, at:
www.ihsa.org/Resources/SportsMedicine/CPRTraining.aspx.
Targeted School Violence Prevention Program:
Student safety is our District's top priority. To maximize safety, the District must have a process to identify threats and prevent targeted school violence. This process is part of the Targeted School Violence Prevention Program (Program). The Program is a portion of the preparedness and response phases of the District's Safety Plan for emergency operations plans and disaster management.
The District wishes to create a climate that encourages sharing any information about a safety concern with a trusted adult who can help. Sharing information about threats and safety concerns is everyone's responsibility: students, parents, staff, and community members. The question and answer section below is designed to help students, staff and parents understand when school officials want individuals to share information about a safety concern with the Building Principal.
What Is a Threat?
A threat expresses intent to harm someone or something. It may be spoken, written, or expressed in another way. Threats may be direct ("I'm going to beat you up" or "I'm going to blow this place up!") or indirect ("Come and watch what I am going to do to him/her."). A threat can be vague ("I'm going to hurt him.") or implied ("You better watch out."). Any possession of a weapon or mention of one is a possible threat. Sometimes students make threats that
may seem funny or "just kidding," but sometimes a threat is very serious and/or criminal. When you are in doubt as to whether the statement is kidding or serious, the responsible thing to do is to tell a trusted adult who can help.
What Is Targeted School Violence?
Targeted School Violence includes school shootings and other school-based attacks where the school was deliberately selected as the location for the attack and was not simply a random site of opportunity.
What Is the Connection Between Targeted School Violence and Bullying?
The Ill. State Board of Education's School Bullying Prevention Taskforce report identifies bullying and targeted school violence as "part and parcel of the same issue: interpersonal aggression." In all its forms, interpersonal aggression negatively impacts students, school personnel, and communities and should be reported, investigated, and responded to with appropriate interventions.
What Can Staff and Parents Do?
Educate students about what a threat is, encourage students not to make threats or "just kidding" statements in the first place, and reiterate that seeking help to prevent someone from getting hurt or hurting another is appropriate