College Night 2021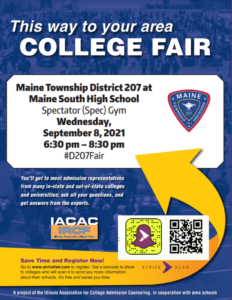 Mark your calendars to attend Maine Township High School District 207's College Fair this Wednesday, September 8, 2021 from 6:30-8:30 PM at Maine South High School. This annual event brings approximately 150 college admission representatives right to you. Students and their families will get to meet college admission representatives ("college reps") from across the country, ask questions, and get answers directly from the experts. Don't miss this fantastic opportunity to explore post-high school options! Although all District 207 families are invited to attend, it is most appropriate for Juniors and Seniors.
Students must pre-register for the fair at www.strivefair.com to get a barcode that the colleges will use to scan in order to receive your contact information so that they can follow up, share upcoming events, send reminders about deadlines, etc. It's free to pre-register and saves everyone time and hassle by not having to register at the door!
Click here for a list of attending colleges.
*As parking is always at a premium at Maine South, please plan accordingly. Students and families will have access to the following parking lots: Athletic, A-Wing, Front Circle, Forest Preserve, and the District 207 Administration Center. We strongly encourage carpooling. The North Lot (between the Auditorium and athletic fields)) will NOT be open to students and families as it will be reserved for our college reps.
Why Am I Here?. . .
10 Reasons Why Attending a College Fair Is a Good Idea
In-person research
College fairs are an excellent opportunity to do some in-person research. You will get immediate feedback to your questions and the schools will start "to come alive" for you as you talk with the admission and/or alumni reps at each booth.
Convenience
College Fairs give you the opportunity to visit a large number of schools all under one roof.
Explore new options
You may discover a new college(s) that isn't on your radar (or list).
Free advice
Admission representatives are often referred to as admission counselors; go ahead – ask them any question you may have.
Narrow your list
You are able to identify which schools you are likely to make the commitment to go visit in person. It's also possible that you may delete some schools from your list after learning they may not have your major, clubs of interest, etc.
Demonstrate Interest
Colleges want to know that they are wanted. Many keep track of student contact – attendance at high school visit sessions, College Fairs, and campus visits are all ways to connect with the colleges.
Find out about special tuition discounts/merit scholarships
Some colleges offer special tuition discounts to Illinois residents who meet certain criteria. These are typically offered by less-selective out-of-state public and private schools. Merit scholarship opportunities can also be explored when speaking to the reps.
Attend special information sessions
The District 207 College Night will feature a separate info session on Financial Aid (in English and Spanish) and one session for students with learning disabilities.
Practice your interview skills
Talking to college admission reps will help you when it comes time to interview. You will need to think of what questions you want to ask and then think "quick on your feet" to any questions asked of you in return.
Great preparation for the campus visit
If you can survive the College Fair – which is loud and chaotic – the campus visit will be a piece of cake. You'll also already have practice for what questions to ask and have an initial feel for the college before you even step foot on campus.