District 207 Board Honors Students for Achievements in Fine Arts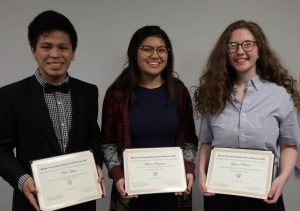 Written by Hannah Pisani, Communications Department Intern
The District 207 Board of Education named three students as "207's Best" for achievements in Fine Arts. The students being recognized are Logan Kulbersh (right) from Maine West, Kevin Opena (left) from Maine East and Melanie Parangalan (center) from Maine South.
Maine West's Principal Dr. Eileen McMahon referred to Kulbersh as a "four-for-four in performing arts" because of Kulbersh's extensive involvement in the Fine Arts department. Specifically, she plays the viola, sings and is apart of drama and broadcasting. Currently Kulbersh is using her skills in filmmaking to tell a story about a high school student finding joy in her drama class. Kulbersh sees herself majoring in choral education and becoming a voice teacher because of the great impact her teachers have had on her and her eagerness to express herself.
"Logan knows who she is and moves through the world with the understanding that it's up to others whether or not they accept her; what others think of her is not her concern," says teacher Jane Wisdom. "She is lovely and thoughtful and will no doubt bring much joy, love, and acceptance to the world."
Opena received this recognition because of his accomplishments in the Fine Arts department in addition to a rigorous class load. This year, he is enrolled in Wind Ensemble and Chamber Choir along with participating in Tri-M Music Honor Society, Thespians and being a leader in the All-In Choir.
"Kevin is now a three-time selection to the ILMEA District 7 Honor Band on Bassoon, and has also earned a seat in the Chicago Youth Symphony Orchestra – both significant achievements in the Chicagoland area with so many outstanding student musicians," Fine Arts Department Chair Ed Eubank says. "Kevin also plays in Wind Ensemble and Jazz Band and is a member of Chamber Choir and Audacity in Blue. He was in the first group of student leaders for All in Choir and played a lead role last year in the school play "Newsies." He is also a gifted keyboard player who has been named to two Illinois Theatre Festival All-State Pit Orchestras on Piano/Keyboard. He is the leader of the V-Show Pit Combo and is always ready and eager to support other students' show acts. In short, Kevin is a musician's musician."
Parangalan has dedicated her time in multiple areas of the Fine Arts department. Among her experiences in stage crew she helped build the set of the state-bound play "Noises Off," she served as an assistant, she became the painting head for the second half of her sophomore year, she was stage manager for "A Chorus Line" and the V-show, and she served on the all-state stage crew for "In the Heights." In addition to stage work, Parangalan is very involved in photography.
"Melanie always volunteers for opportunities in the art department," Photo and AP Studio Art teacher Mary Lee Moore says. "Whether it's photographing an event, hanging an art show or peer coaching a student in the classroom, she always steps up. She is participating in a photo internship through the district. She has been an active member and leader in Photo club, leading activities and getting students involved and participating in school wide club events. Melanie is very creative and introspective. For her AP portfolio, she is exploring her Philippine, Spanish and American history. She was able to obtain vintage family photos and is seamlessly combining them into works of art which helps her explore her identity. I greatly enjoy watching her develop her ideas. Melanie has a joyful disposition which is infectious and lifts others up."
Parangalan also dedicates her time as a photographer for Southwords (the school newspaper), being an officer for Thespian Society and involving herself in broadcasting.