Helping Those Most in Need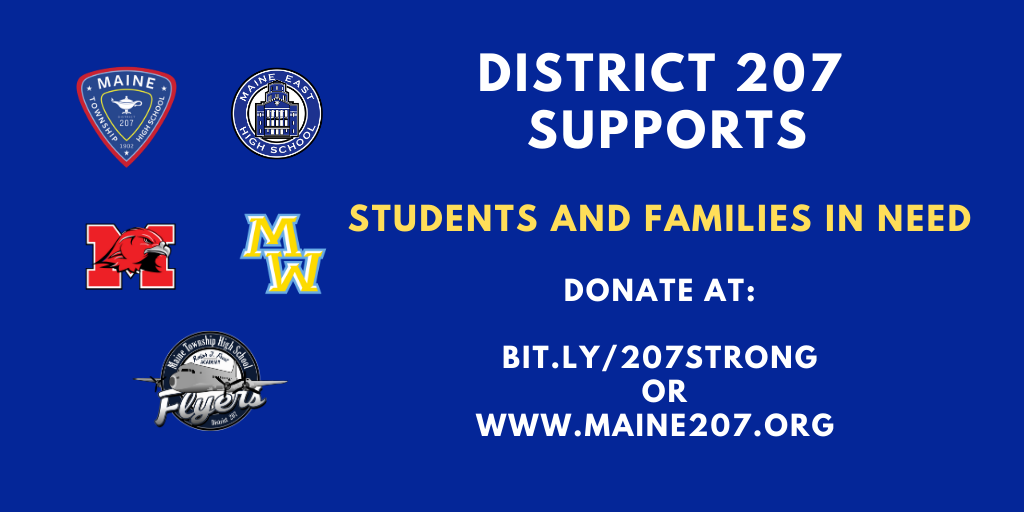 We know these are unprecedented times in our community, our nation and our world. While most of the information we are hearing brings additional concerns, there also are many stories of people helping others during these difficult times right here in Maine Township.
For that reason, we have established a way for the District 207 community to join efforts to provide support to our students, families and support staff members in greatest need. We are collecting money that will be used to purchase gift cards from local businesses that provide groceries, food or household items. Those gift cards will be distributed to families and staff who are identified by school administrators.
Anyone who wants to help these families can donate at: https://maine207.revtrak.net/donations/ or by sending a check to: Maine Township High School District 207, Attn: COVID-19 Food Drive Donation, c/o Karen McGovern, 1177 S. Dee Road, Park Ridge, IL 60068
The Maine 207 Educational Foundation has partnered with District 207 to make available tax deductible donations since donations directly to the school district are not tax deductible. Those donors can visit https://www.maine207foundation.org/donate.html. Please designate the donation to: District 207 COVID-19 Emergency Fund. The gift will then be allocated to the fund and provided to District 207. If donors prefer to send a check to the Educational Foundation, they can do that
as well at: Maine 207 Foundation, 1177 S. Dee Road, Park Ridge, IL 60068.
Thank you for your assistance to support those students, families, and staff most in need within our District 207 community.
For parents who want to donate their child's Quest lunch balance to the cause, please know Quest can only refund the money to parents. However, parents could dedicate that money to the fund raising and donate that amount to the fund.