Homecoming 2022
"Lights, Camera, Action!"
Homecoming "Hollywood" Week 2022 will run from Monday, September 19th until Saturday, September 24th!
Spirit Week Dress Up Days:
Monday (9/19) – Generation Day
Seniors dress as Senior Citizens
Juniors dress as Parents
Sophomores dress as College Kids
Freshmen dress as Babies
Tuesday (9/20) – Celebrity Style Day
Dress to impress! Re-create your favorite celebrity look or character
Wednesday (9/21) – Nostalgia Day
Dress up as your favorite childhood movie/TV character
Thursday (9/22) – Meme Day
Dress up to re-create your favorite meme
Friday (9/23) – Class Colors Day
Seniors wear Black
Juniors wear Red
Sophomores wear White
Freshmen wear Grey
Girls Flag Football Game
Thursday, September 24th at 7:00pm
Homecoming Football Game VS Glenbrook North High School
Friday, September 23rd at 7:00 pm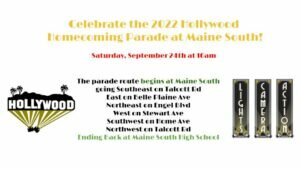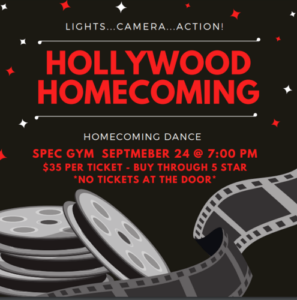 Click here to purchase Homecoming Tickets
Students at Maine South High School may bring one outside guest, provided that the Guest Form is completed and approved by the Assistant Principal of Student Supports, prior to purchasing a guest ticket.
Guest Forms can be picked up in the SST office and must be returned to the SST office to be signed for approval by 3:30 pm Thursday, September 22nd.
Students will receive an email from Mr. Edwards once their Guest Form is approved. Students will then be able to purchase a ticket for their outside guest.