Homecoming 2023
Howdy Maine South!
On behalf of your 23/24 Student Council and Senior Class Council, I would like to invite you to giddy up for our annual week of fun for Homecoming 2023 occurring during the week of October 2nd-7th.
Below is the calendar of events that technically begins with our door decorating contest in advisory the week prior, and commences with the Homecoming Dance here in the Spec Gym. Please also see the bullet points below for specific event details. Lastly, dance tickets are on sale now on 5-Star. We look forward to seeing all of our wonderful staff and students dressed on theme days, cheering on one another at the assembly, and finally coming out to watch our football team dominate against GBS.
As always, feel free to reach out if you have any questions!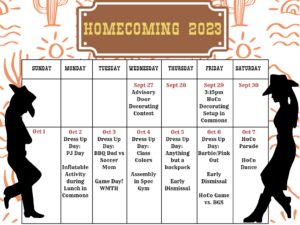 Homecoming Door Decorating- On Sept 27th during advisory, you will have the opportunity to show your interpretation of our Western Howdy Homecoming theme by decorating your advisory classroom door. Each advisory will be given one poster board and whatever materials the class can come up with to see how can be the most creative, inclusive and fun way of showing our school spirit for the week to come.
Homecoming Decorating- Clubs, activities and athletics teams may sign up to decorate a portion of the hallway to show their unique take on the week. We are also happy to announce that window decorating is officially returning to South. Those who sign up for a window decoration will have the chance to have their work displayed on the front facade of Maine South. Sign-ups to come next week.
WMTH Game Day- Our amazing WMTH broadcasting team, led by Mason Strom, will put on a student-produced studio show filled with fun interviews, contests and Maine South trivia. Much of the show is live-streamed from the commons so you can see firsthand what makes our amazing WMTH the best student production this side of the Mississippi.
Assembly- On Wednesday, October 4, we will be on an extended advisory schedule to allow for our homecoming assembly to take place in the newly re-branded Spec Gym. We anticipate thrilling student performances, staff participation and the opportunity to recognize all our amazing athletic and activity accomplishments thus far.
Homecoming Parade- Saturday morning after the game (Oct 7) we take our show to the streets of Park Ridge for the annual parade. This semi-short loop just north of campus will allow our teams, activities and clubs to be recognized by the wider PR community. Parade kicks off at 10 am.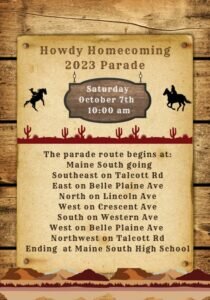 Homecoming Dance-
Lastly we look forward to a fun night of dancing and maybe a little boot scootin on Saturday, Oct 7th from 7-10pm.
Tickets on sale now (click here)!
Outside guests will be allowed. All tickets must be purchased on 5-Star.
The 2023 South Homecoming Dance is approaching and we want you to know exactly what you need to do to purchase tickets. We will be allowing outside guests again this year, and the guest form process will be similar.
Please read this carefully!
Students at Maine South High School may bring one outside guest to a social event, provided that the following information is completed and approved by the Assistant Principals of Student Supports Office, prior to purchasing a guest ticket.
This means you must submit the form to your SST team FIRST, and then wait for confirmation from Mr. Edwards to purchase a guest ticket. You may purchase your own ticket before getting approval.
Guest Guidelines
The guest must be currently enrolled in at least 9th grade.

No guest will be admitted over the age of 18 years old.

A photocopy of their guest's identification (school ID/driver's license) must be submitted with this form.

All guest forms must be submitted by Monday, October 2nd @ 3:30pm. No exceptions will be made.
On Monday, the link to purchase tickets will be sent by email, and you can print out a guest form and bring it to your SST as well.