Interim Principals Named at Maine South for 23-24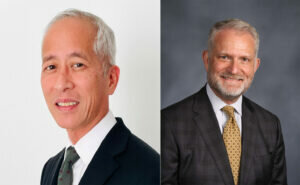 Dr. Mike Pressler (right) and Dr. Steven Isoye (left), two former Maine Township High School District 207 principals, were approved at the June 5 Board of Education meeting to serve as interim co-principals at Maine South High School for the 2023-24 school year.
Current Maine South Principal Dr. Ben Collins recently announced he will be leaving Maine South High School to become the superintendent in Park Ridge-Niles School District 64.
Dr. Pressler served as principal at Maine East for 12 years and retired following the 2021-22 school year. He served as the Assistant Principal for Instruction at Maine East for five years and was the Maine South Fine Arts Department Chair for 14 years.
Dr. Isoye left the Maine East principalship at the conclusion of the 2009-10 school year to become the Superintendent at Oak Park and River Forest High School District 200. He retired in 2022 as the Superintendent of Niles Township High School District 219. Dr. Isoye currently serves as the Chair of the Illinois State Board of Education.
Dr. Pressler and Dr. Isoye are eligible to work 120 days each, so they will split the 238 school work days between July 1, 2023 and June 30, 2024.
District 207 will reconvene the search for a permanent principal appointment in the fall of 2023 with a start date for the new principal set for July 1, 2024.