Maine South V-Show Set for Nov. 22 and 23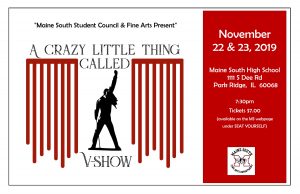 Maine South will present a Crazy Little Thing Called V-Show that will feature the music of Queen by the student stage band as well 20 acts, featuring the many talents of Maine South's students. Acts include singing, dancing, instrumental numbers and diablo juggling. In addition to the acts, the student sketch comedy group will perform over 40 short comedic skits. More than 200 students are involved in creating the show and they work on stage crew, in the acts, stage band, Trunk (the sketch comedy group,) Writing Staff (the comedy writers,) Footlighters (the opening song/dance number,) Broadcasting students (creating the show's opening video,) and Music Theory (the students that orchestrate the musical numbers).
V-Show Tickets are available for purchase online here. The show is set for November 22 and 23 at 7:30 p.m. and tickets are $7.00 each/all ages.