Parent Email Honors the Impact of Teachers
This week Maine South Teacher History Teacher Michael Biondi received a letter from a parent for his impact on his daughter's education and life. She copied Principal Dr. Ben Collins and Superintendent Dr. Ken Wallace. With her permission, the email is shared below along with a photo of her daughter Evelyn Costigan (right) and Emily Barry, both former Maine South students. The photo is from the regional History Fair in Chicago that was taken in spring of 2017.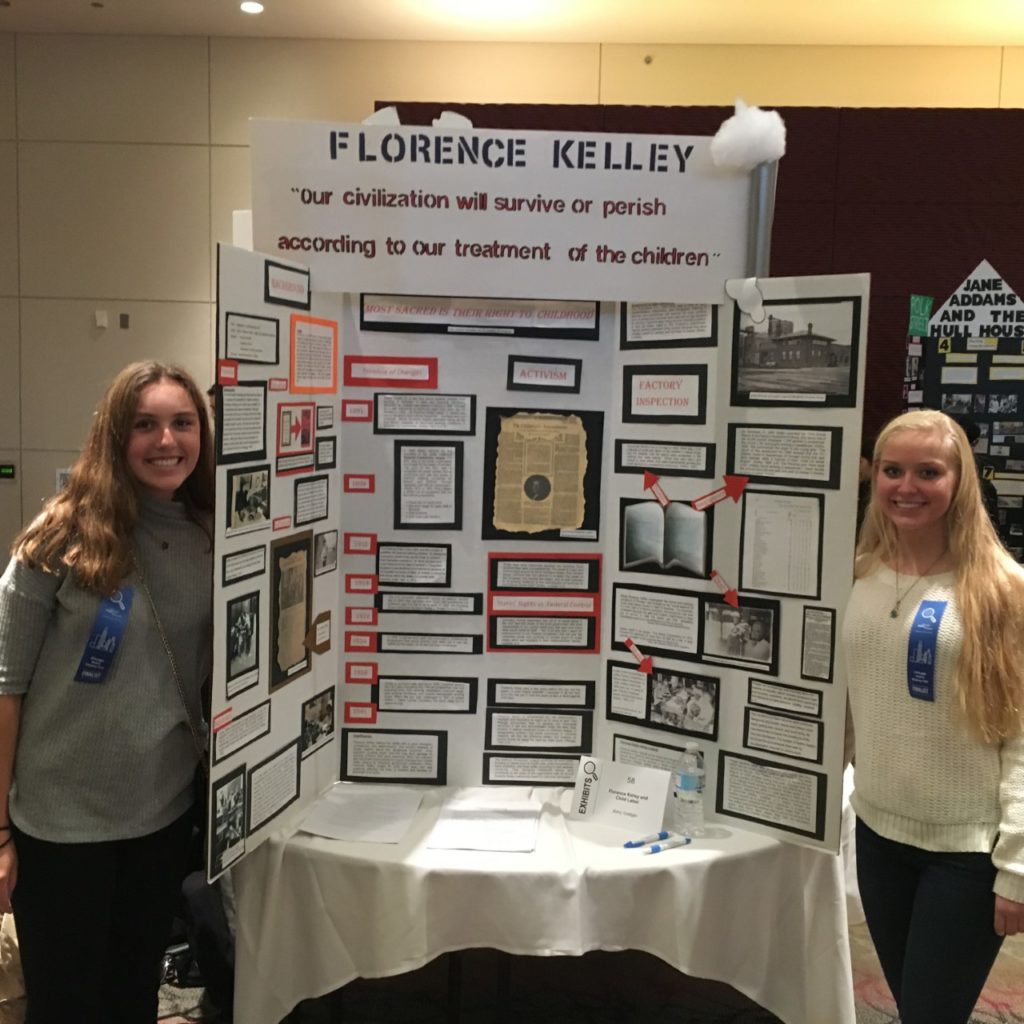 Dear Mr. Biondo,
Congratulations on being named to the Library of Congress/National History Day partnership! And thank you for all you have done for the History program at Maine South! I have attached a photo from the regional History Fair in Chicago that was taken in spring of 2017.
This honor is a fantastic acknowledgement of all the hard work you have put into the history program at Maine South. Participating in the Illinois History Fair was the single best educational experience for my daughter Evelyn during her four years at Maine South. The project prepared her for college in many significant ways:
Primary Sources: This project was Evelyn's first exposure to the concept of a primary source. Prior to your class, she based research papers on library books and internet articles. For the History Fair, she had to make appointments at university libraries to view their original collections, file specific requests in advance, and be supervised while viewing materials. I accompanied her to UIC Library, where she was presented with materials to review with a librarian standing over her for the allotted time slot. Evelyn carefully unfolded 100-year-old newspapers , journals, and photos while meticulously documenting each source. These obscure, original sources cannot be found in any library book or internet article and they opened her eyes to the rich detail of historical events that have been blurred and simplified over time.
Works Cited: The level of detail required for documenting sources left no room for error. When she received her scores on an early round, she had points deducted for an incorrectly cited source. It was terrific preparation for college where professors have no mercy for plagiarism, even if it is accidental.
Teacher Relationship: This project was a great way to build a strong student-teacher relationship. The countless hours you met before school, after school, and during study halls with Evelyn and other history fair participants really demonstrated your dedication to the students and this method of learning history. After her success, you wrote a strong letter of recommendation for her in the Common App which helped her gain admittance to her school of choice.
Creativity of student ideas : My husband and I really enjoyed viewing all the projects in Chicago at the regional competition – that is where we took this photo of Evelyn and Emily prior to their advancement to the state competition. It was so inspiring to see young people dive deep into a topic of interest. Maine South always has an excellent showing thanks to your mentoring.
Career Planning: This project helped Ev understand that you don't need to be an industry titan to effect change. Her research introduced her to early grassroots efforts that grew and had major societal impacts. It also helped her focus on a career and how she can help to make the world a better place.
To this day, we use the phrase "primary source" in our house although it has taken on a slightly different meaning. Sometimes our kids will show us screenshots from their social media or quote entertainment news broadcasters that are hyperbolic, disingenuous, and anxiety-producing. We tell our kids to find the primary source – listen to an entire interview not just a sound byte, find the actual quote not what someone sensationally paraphrased, and look for articles with facts not opinions. Searching for primary sources has helped them become critical thinkers.
Last, when Evelyn was home for winter break she shared with me a paper she had written for a Psychology class dealing with potential long-term effects from the pandemic. She referenced the activist Florence Kelley, who was the topic of her history fair project, which demonstrates that what she learned from her research project has had a lasting effect on her view of current events.
Congratulations again, Mr. Biondo! I look forward to your continued success guiding and inspiring the students at MS!
Have a great week and please know how much we appreciate your hard work and dedication to the students!
Sincerely,
Jean Costigan