Schedule for 2019-20 Includes Consistent Start Time and Later Start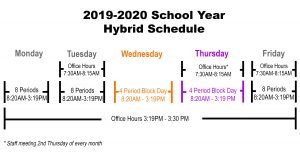 The principals at Maine East, Maine West and Maine South recently held student, parent and staff focus groups to gather feedback on the hybrid schedule implemented this year. These conversations were extremely valuable as they discussed class time, lunch periods, start times and maximizing student access to teachers. After taking this feedback into account and PACE schedules (the bus service for students), a daily schedule has been developed that is believed to be an improvement for students and learning. This schedule will go into effect for the 2019-2020 school year.
Schedule Summary:
The start time will be later (8:20 a.m. every day). There is overwhelming research that start times later in the day are beneficial to student health and this has been a topic of conversation for a long time in the district.
School starts and ends at the same time every day. This was a major point of feedback from parents so they could plan their mornings and coordinate with other school drop offs, start times and work.
The block days will be Wednesday and Thursday. Students reported that more regular contact with teachers would be beneficial when they had time away from teachers during their two block days. Teachers also commented that having two days in a row of the exact same schedule to start the week would provide more continuity to their week and preparation.
Teacher office hours will be slightly expanded. Students and teachers both felt this dedicated time is valuable and provided extra time to meet with teachers in small groups and/or one on one. There will be a collaboration day each week and some other teacher meetings/professional development that will occur in the mornings between 7:30-8:15 a.m. More information on that will be coming as it gets closer to the start of school.
Lunch will simply be better. Block days will be reordered so that the number of students can be spread among each lunch in a much more manageable way for space allocation and staff supervision allocation. Lunches on block days will be split into thirds across a single block to allow for a more manageable allocation of students in each lunch. This is being piloted in many departments currently. Science and physical education will always have lunch first or last to maintain a continuous block.
There are two bell schedules instead of three (one for eight period days, one for block days). Students made comments that having only two schedules would be helpful. Teachers asked for more continuity in their planning and having to manage three bell schedules made that more of a challenge.

In order to accomplish these changes that will benefit students and their education, we are shifting three minutes of instructional time each week to teacher office hours so teachers can personalize their time with students who need more help. If you want to see the specific details of the schedule, that is available at this link: http://tinyurl.com/19-20sked
It is anticipated these changes will enhance the district's offerings to students and improve the planning continuity for teachers. If a parent has questions, please reach out to the principal of your student's building, or at Maine West, the incoming principal.