Students Honored by Board of Education for Electives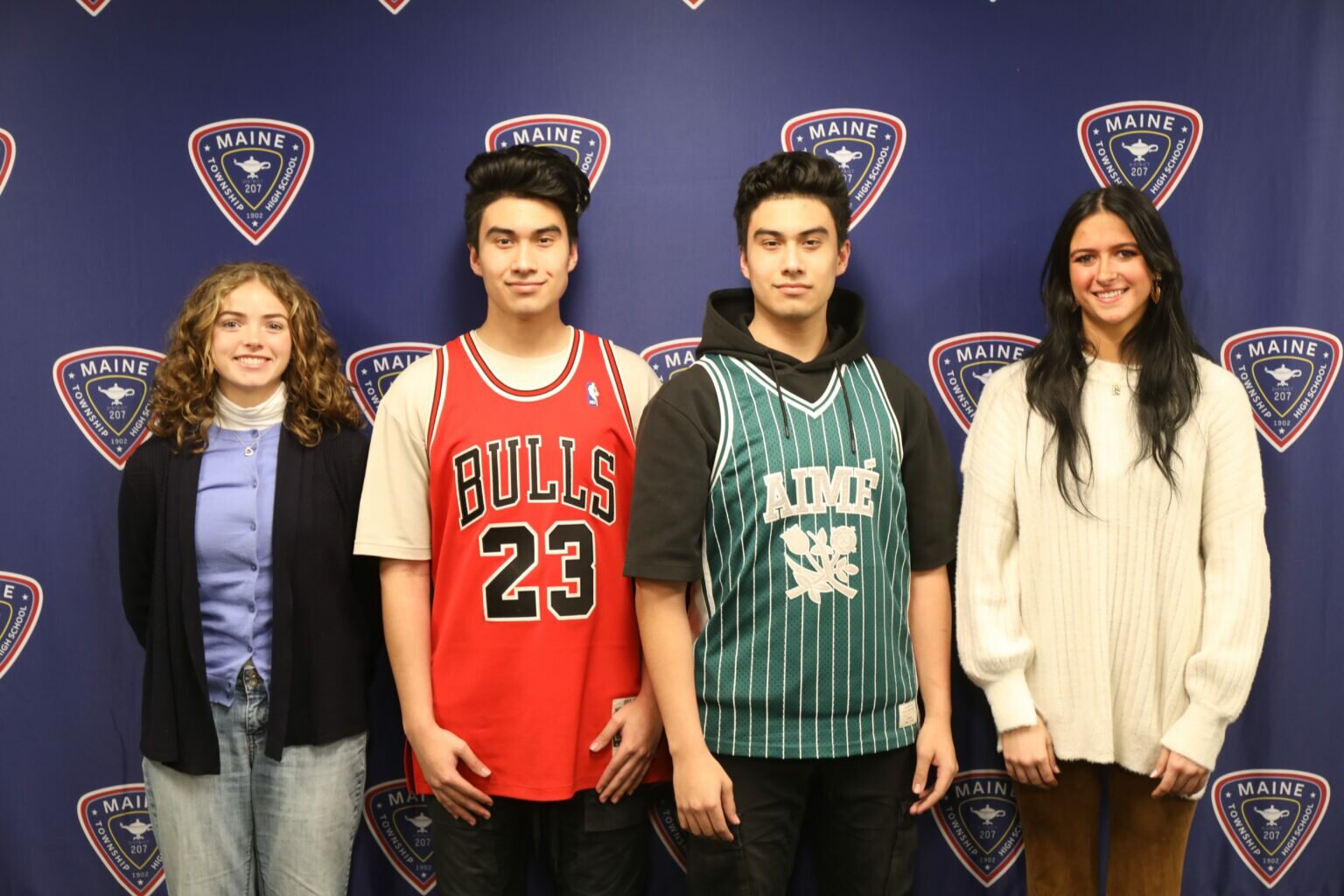 The Maine Township High School District 207 Board of Education honored four students at its recent meeting naming each student "207's Best" in the area of electives. The students recognized were Darcy Folsome from Maine West (left), Alonzo Larios from Maine East (center right), Andre Larios (center left) from Maine East and Daniella Lopiccolo from Maine South (right).
DARCY FOLSOME
Nomination written by Principal Eileen McMahon
Throughout my conversation with Darcy, she probably didn't realize how many times she uttered the sentence, "I need to know more." (A close second? "I loved it!") Her intellectual and personal curiosity, which honestly is delightfully common among teenagers, exceeded levels I am used to seeing in even the most devoted and accomplished students. Darcy has taken virtually every possible course in the Social Sciences department, plus related courses like Personality and Relationships in CTE, to establish herself as our clear honoree for 207's Best in Electives.
Counting on our fingers, Darcy and I concluded that the only offering in Social Science that she hasn't taken is Economics. Of that, Darcy said, "I really wish I had! I need to know more! But I couldn't find a way to fit it in." The obvious reason for the tight jam in her schedule is her devotion to serving as a TA in classes like AP World History and AP Psychology, "so I could refresh and relive it all again," as a supporter of other learners. She said she took AP World because she "needed to know more about the world outside my bubble." She loved APUSH because it was "so in-depth, fair, and clear" and it meant a lot to her to learn "about the bright and dark parts of our history." She became obsessed with AP Psychology because she needed to know about the brain: "Why does it do this? Why? Why? Why?" Learning about neurons, she said, turned on some lights for her, and then her tagline: "I need to know more." At the end of AP Psychology, she said, "I thought, 'I get it…' And then I take a new class and I think, 'Oh wow, I have no idea again. I need to know more.'" Philosophy? "I need to know more." Sociology? "My mom said it helps her understand groups and behavior. I needed to know more. I love it! Taking the class helps me understand groups and inequality ACTUALLY, not just theoretically. It has helped me slow down and really understand people's points of view, and to stay in it when people disagree."
It is obvious to me that Darcy will be a difference-maker wherever she goes. When I asked her what problem she wants to solve, she immediately said inequality in education, and kids' mental health. "Who's there for kids who're going through rough times?" she asked me. "They need someone to intervene. Who's helping? A lot of times it's the school." By this time, a school psychologist waited outside my door for my next appointment, and before a minute or two, Darcy was asking her questions about her work supporting students and evaluating how they function in various settings. We talked about exploring internship opportunities and of course, Darcy said…I'm sure you can guess. "I need to know more."
Darcy does, in fact, take other classes, and teachers in several disciplines were delighted to tell me how influential she has been, how much joy she has brought to their work in some tough times.
Mr. Zafiropoulos in the Science department enthusiastically shared that Darcy is "so dedicated to being better at everything. No challenge too big, nothing ever too difficult for her. She always rises above the expectations. What really makes her one of the Best at West is how she elevates others around her to that next level, she shows them that all is possible."
From the math department, Mr. Butterfield said Darcy "brings a bit of a spunky-sass personality to the class which I thought made the classroom more fun. The one thing that I really appreciate about Darcy was that she was one of the very few students who turned on their cameras during remote learning a few years ago. As I was losing my mind trying to teach online to a class full of blank screens, it was being able to see the faces of kids like Darcy that allowed me to keep my sanity. Darcy was in my Pre-Calc class the following year and I got to know her even better."
English teacher Mr. Walsh is grateful for Darcy's leadership of her peers, in class and out. "In one of those happy and purely random organizational moments of good fortune, Darcy appeared in my advisory, where she has consistently shown leadership, enthusiasm, and engagement, decorating the classroom, focusing on the weekly exercises, and modeling great involvement for her peers. If our paths didn't cross any other way at Maine West, I would have been pretty satisfied with her performance in advisory, especially understanding her obligations to extracurriculars at school–what kind of person competes in two sports in the same season?!?! Darcy does, participating in both swimming and cross country. And then I had her in class. That leadership and enthusiasm and engagement were accentuated by intellectual curiosity and a depth of understanding expressed through both composition and discussion, and a work ethic that guarantees success in the present, but which also promises a lifetime of even greater achievement. I have spoken to some Biology teachers about ways to potentially clone her, but we are still working through the ethics of that. Recognizing Darcy as one of 207's Best is a no brainer. Maine West is a better place because of what Darcy has done in her time here.
As Darcy has dived into the Social Sciences, so the Social Sciences faculty have embraced her. Her AP World History teacher, Ms. Hendrickson, called Darcy "a unique person. She does things because she is genuinely interested and curious. She is not a grade grubber…but she was the student I would find myself looking to when I was lecturing because she would be listening and smiling. She would tell me she loved different aspects of class and at first I thought she was brown-nosing, but I realized she meant it. When she volunteered to TA for me later she would stop and listen to lectures (even though I told her she could do something else), saying she loves history. She…is a great combination of fun, friendly, independent, chill and intellectual."
Philosophy teacher Mr. Fouts identified Darcy's "mark of distinction" as "her interest and enthusiasm for asking just the right question, at just the right time during a discussion which moves the class into a refreshing and unexpected direction. What that says to me is that she loves to think independently and has the courage to embrace uncertainty, two traits that will make her successful in whatever profession she chooses."
Finally, Ms. Rettig, whom Darcy helps out in AP Psychology as a TA, described Darcy as "the most engaged student I've ever had. She was in my AP Psych class last year and it's like she can't STOP being a student of psychology! She constantly stops by my classroom (even this year, when she's no longer in the class) to ask questions and talk about things she's been pondering in psychology. She even re-read her psychology test prep book over the summer because she loves learning and thinking about these topics so much. This year she has volunteered to be an Office Hours TA for me, and helps out current students when they are doing test corrections. She is engaging, opinionated, curious, and friendly – just all around great to have in class and even just to run into in the hallways."
When you consider that Darcy participates in Swimming, Track, Cross Country (as a captain of both), NHS, PE Leaders, Music Appreciation Society, Pan-Asian Student Association, and Philosophy Club, and volunteers in the library, you start to see just how big of an impact she has made on our school. Thank you, Darcy, for all that you have done for Maine West.
ALONZO LARIOS AND ANDRE LARIOS
Nomination Written by Principal Melissa Pikul
It is double the pleasure to bring you not one, but two, Maine East honorees for 207's Best this month. Congratulations to brothers Alonzo and Andre Larios for their success in the areas of World Language and Fine Arts. Our staff shared with me that it would be impossible to choose between Andre and Alonzo. After meeting them, I couldn't agree more. Thanks to the Board for allowing two nominees from East. Alonzo and Andre have both shared talent, success and strong values with Maine East over the last four years and are more than deserving of this honor.
Upon meeting Alonzo and Andre I asked if they may have preferred that we make a choice between them as they have probably been recognized together for many honors throughout their lives. Immediately, both responded that they actually love being together and are truly best friends and each other's greatest systems of support. It was absolutely heartwarming to witness the connection between them as we spoke. Both students have impressive academic resumes. Alonzo specifically shared that he owes his success to his great teachers. He said that school, for him, has always been about more than earning credit. He reports enjoying classes for the sake of learning and names English and other humanities courses as his favorites. Andre shared a similar passion for learning. He said that he has truly enjoyed school; that he loves to learn and explore and see his friends. The pandemic was a tough time for the Larios brothers because school and learning has always been a favorite part of their lives. As Schuler Scholars at Maine East, Andre and Alonzo have delved deeply into AP and Dual Credit offerings from all departments.
Both the World Language and Fine Arts departments took part in this nomination because of the Larios brothers' impact on their departments. Their first language is English, but Mom always spoke Spanish to them. They have memories of visiting their family in Mexico and wanting to sharpen their skills. After what they describe as a "rocky" transition to high school Spanish during home learning, both Alonzo and Andre went to Mr. Cintado to express their interest in attempting AP Spanish. They knew they'd have to work hard to earn a passing score on the AP exam. With Mr. Cintado's support and motivation from each other both students were successful on the AP Spanish exam, earning college credit. This year, Alonzo and Andre decided to give French a shot. They are taking French I with Mr. Lewis. As Seniors in a class of mostly freshman students, Mr. Lewis has shared that they are both natural leaders in the class supporting their classmates not only in learning a new language but also in navigating high school.
Andre and Alonzo have also found homes in the fine arts department. They are both passionate about film and theater: Alonzo prefers acting and Andre prefers production which allows for the ultimate partnership in this hobby and future career goal of theirs. When it comes to acting, Alonzo loves every second of it. He will graduate as a 12-show Senior and is grateful for all he's learned in drama classes and from his peers through their productions. Andre's preference has always been behind the camera and directing. One of Andre's favorite courses has been Advanced TV and Film Production. He loves spending his time creating trailers, short films and documentaries. Andre says that he loves having the "big idea" of how to shoot something and his distinct style is always quickly understood by his brother. Since they were little, Andre and Alonzo have collaborated on homemade productions and they will always be each other's favorite partners in production.
Naturally, the Larios brothers' teachers have much to say about their success.
Mrs. Wolfe is lucky to have both students in AP Biology. She shared that Alonzo is a great contributor to class discussions, willing to take academic risks and puzzle ideas out with classmates. Alonzo strives to do well asking many questions to ensure understanding. Alonzo advocates for his learning by coming in for additional help and clarification when needed. He is a role model for his peers and a class leader. He is also a very friendly individual and very mature. She shared that Andre is a quiet leader who is always willing to contribute to class discussions. He works very well with his peers and pushes the thinking of his classmates by asking thoughtful questions and wonderings.
Andre is a conscientious student who wants to gain full understanding of concepts and will continue to clarify his thinking until he does. Andre is very kind and mature. I have seen him grow into a student that truly loves learning for the sake of learning.
Mrs. Macarthur commented on Alonzo's success in math. What impresses me most about Alonzo is his willingness to take academic risks. He is currently in my AP Statistics class, a math class that is very different from other math classes where Alonzo has excelled. But Alonzo is not afraid to be wrong when exploring a new topic, he always is willing to explain his thinking and works well with any student in the room. All of his hard work while balancing all his other activities and classes has paid off, and he is consistently mastering the material. Plus, he is really funny and kind, so that's good too!
Mr. Eller has had a great experience with Andre in math. Andre is currently challenging himself by taking AP Calculus AB this year. He is dedicated to not only earning a good grade, but in also learning the "why" behind the math that we are doing. As opposed to just memorizing algorithms and procedures, Andre wants to know how it all connects with what we have learned and where we are going with future lessons. He is a stand up student with an extremely strong work ethic and has earned respect by both me and his peers.
Our fine arts teachers also had much to share, of course.
Mr. Ash reflected on the growth he has seen in Andre on the production side. As much as Andre works hard on his own, he is also an excellent collaborator. Andre listens well to others and always pursues a solution that best suits the story and the project; no matter if it is his idea or someone else's. All of his work highlights the notable caliber of Andre's talent, teamwork and willingness to pursue all opportunities. He has maturity and professionalism beyond his years and I believe he has the talent and determination to succeed in the highly-competitive film industry.
Ms. Hall shared that Alonzo has been a stellar Drama student all 4 years at Maine East. His scene work in class is always excellent. His characters have depth and he is great at exploring and developing the conflict in a scene. He's also extremely adept at comedic improvisation which is where his creativity shines.
Additionally, Alonzo had given exceptional performances in our Drama Department productions, especially in Puffs, The Play That Goes Wrong and Failure: A Love Story. He's also a great leader and team player both in class and in rehearsal. He gives insightful feedback and is a terrific coach for his peers when we are doing scene work.
As you've probably guessed, Andre and Alonso hope to pursue their dreams of working in film, together. They hope to attend school in New York and to support each other in getting exposure to pursue the industry together. These self-described best friends recognize that, in addition to being very talented, they have a bond that most others will never experience. They each shared that they don't take that for granted and are forever grateful that they have a constant "go-to" by their side that they can always trust and count on. Maine East has definitely benefited from this double-talent and we cannot wait to see what the future holds for Andre and Alonso!
DANIELLA LOPICCOLO
Nomination Written by Principal Ben Collins
She's always wanted to help people in her life. After Freshman year, she made the decision that the medical field would be in her future. During the pandemic, she saw what kind of psychological consequences all of us faced and that further cemented her desire to help others. Last year, Daniella had an internship at the Illinois Bone and Joint Institute and they appreciated her work enough to offer her a job where she's a rehab technician. Daniella is taking the CNA class and currently is in the internship program where she's on the surgical telemetry floor where she stocks supplies and interfaces with doctors as they work with patients. Her eventual career goal is to be a psychiatric nurse. She's the secretary of HOSA (Health Occupations Students of America Future Health Professionals). She was also a three year member of Orchesis.
Daniella's HOSA Future Health Professionals student advisor and teacher, Heather Sinnott, says, "I have had the pleasure of getting to know Daniella for the last three years, as her teacher as well as her HOSA Future Health Professionals student advisor. I first met Daniella, as a student, in my Early Childhood Development class. Last year, she was a student in my Health Care Careers and Medical Terminology classes. She also became a member of HOSA Future Health Professionals. As a Senior, Daniella continues her participation in HOSA, as an officer. She is currently the chapter's Secretary.
Daniella has known for years that she wants to pursue a career in Nursing. She knows what she wants and works hard to achieve her goals. She has shown this by not only taking the necessary classes, but also by her outstanding performance in them."
Kevin Stock, Daniella's Composition 1 Extended teacher, says, "Daniella is a package of confidence and grit. She is a take control person who is a great leader and worker in a no-nonsense format. She is the spark and the fire any classroom or organization needs."
Amy Swanson, her CNA teacher, says, "Daniella is delightful to have in class! She demonstrates good communication skills and collaborates well with her classmates. Daniella is engaged in class and asks thoughtful questions and actively participates in classroom discussions and activities. Daniella is kind and considerate in her interactions. Happy to hear that she was selected for this award!"
Tona Costello, Daniella's Italian 4 teacher says, "Daniella is an extremely compassionate and empathetic person. She radiates positivity and kindness. She always seeks to include and make others feel welcome. Her passion to help others is contagious and I have no doubt that she is going to be successful in her future career as a medical professional because her bedside manner will be unparalleled!"
Daniella's Crime Science teacher, Melinda Nees, says, "Daniella is a breath of fresh air in Crime Science. She is kind to peers and adults and is easy to talk to. I've really enjoyed having her in class this semester because she comes in with a smile and a positive attitude. She is always willing to share her no-nonsense perspective on things, which I also appreciate!"
Katie Schroeder, Daniella's Internship Coordinator, says, "Daniella Lopiccolo has been very dedicated to her internship experiences! Last year as a Junior we placed her at Illinois Bone and Joint in the Physical Therapy Department. We received great feedback about her performance. Her sponsor stated, "Daniella did a wonderful job communicating with patients of all backgrounds and ages." Currently, she is interning at Lutheran General Hospital in the Surgical Telemetry Unit. She has received glowing remarks from her sponsor at Lutheran, as well."
Next year Daniella is considering many college programs for nursing before she specializes in psychiatry. We wish her the best in her future and know that many people will be in great care with Daniella watching over them.