Students Recognized for Career Exploration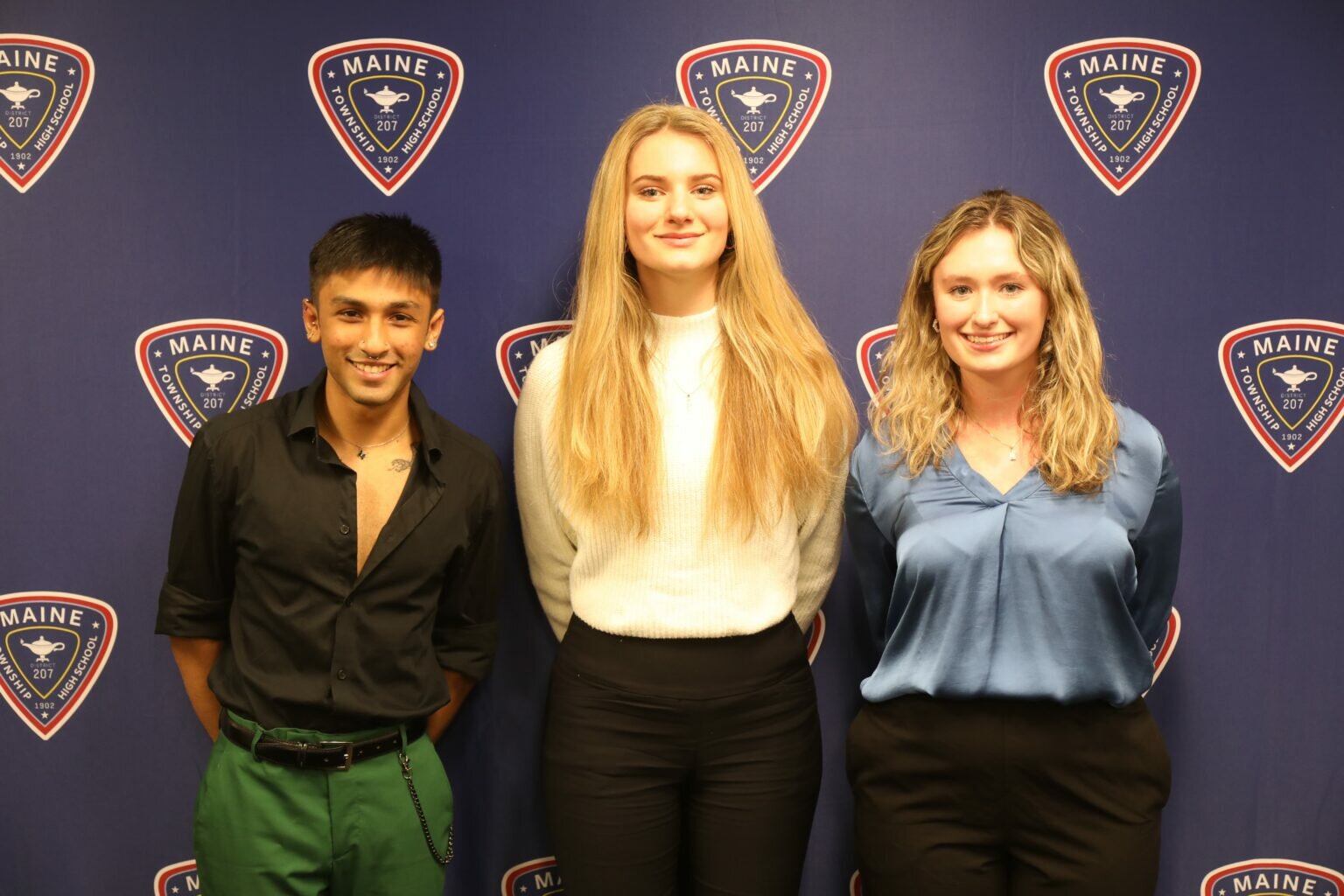 The Maine Township High School District 207 Board of Education honored three students at its recent meeting by naming each student "207's Best" in the areas of career exploration. The students recognized were Sofia Milovanovic from Maine East (center), Mohnish Soni from Maine West (left) and Morgan Timmons from Maine South (right). Below are the nomination letters written by their principal.
SOFIA MILOVANOVIC – MAINE EAST
Maine East High School is pleased to recognize Sofia Milovanovic as one of 207s Best in the area of career exploration.
Sofia may be a familiar face as she was recently featured in a "My Plan My Story" video. It is a joy to celebrate Sofia tonight as she is a prime example of our District's aspiration to "get it right" for every student. Truthfully, Sofia has done an awful lot on her own to "get it right". Like so many of our successful students, Sofia has a resume overflowing with activities and a transcript that proves she can do it all. What sets Sofia apart is her drive. She has a distinct awareness of how she is in control of her journey and how she intends for her hard work to pay off.
In her junior year, Sofia expressed interest in an internship at a law firm. She has always loved her English courses and excels at developing a strong argument. Sofia credits her current composition class for refining her persuasive writing skills. Sofia shared that she was grateful that she was quickly placed at a civil law firm in Des Plaines. She worked with Attorney Yearwood who has 35 years of experience in the field and was hesitant to take on an intern because she didn't want to have to constantly supervise a teenager. Attorney Yearwood quickly realized that Sofia was driven, professional and quick to learn all new tasks. Sofia's work has been such an asset to Yearwood and Associates that she was asked to take on a paid internship for the summer and that work was extended into this school year. What was intended to be an exploratory experience has turned into a job, one that is providing Sofia outstanding experience for her future career.
It is important to note that Sofia didn't just get lucky in finding an opportunity that she loved. She took advantage of many club and course opportunities throughout high school to determine that practicing law is the right fit for her. Sofia is a member of National Honor Society, a participant in cross country and track, the president of Feminist Club and a member of the Chicago Bar Association Law and Debate Club. Prior to Sofia finding her fit in her law internship, she was actually exploring health care, hence her role as a club officer for our Future Health Professionals Club. Her great written and oral persuasive presentations on adolescent health related topics allowed her to compete at the state level HOSA competition in 10th, 11th and 12th grade.
Naturally, Sofia's relentless pursuit of knowledge and diverse experiences is appreciated by her teachers as well.
Ms. Leathum, Sofia's English teacher, shared "Sofia's drive is evident daily; her persistence for feedback and self-improvement serves as a model to classmates. She embraces self-improvement and, as she mentioned in her My Plan story, she seeks experiences that challenge her so that she can learn and grow from them."
Mrs. Love has gotten to see Sofia's stellar academic skills in addition to her passion for challenging activities. She shared, "I have been fortunate to get to know Sofia over the past four years as both a student in class and a leader in two of the clubs that I sponsor. Sofia is bright, kind, and demonstrates leadership qualities in every interaction with peers and staff. Sofia's maturity level, drive, and self-motivation has always been above and beyond that of her peers. She is always willing to put in the extra time and effort to make sure that whatever she is presenting showcases her best abilities. This year Sofia has yet again impressed me with her ability to seek out opportunities. Sofia has qualified for the third year in a row for the State Leadership Conference and Competition for Health Occupations Students of America (HOSA). The past two years Sofia has earned a Top 10 in the State designation for her persuasive writing and speaking skills. This year Sofia qualified in that event again and will also be competing in Medical Law.
Mr. Peters was also excited to share his experience with Sofia. "Sophia is an awesome student who has a real passion for the social sciences. She has taken a number of classes in the field including AP Government this year. Sophia has actively sought out opportunities to increase her knowledge in the area of social science including entering the Profiles in Courage essay contest organized by the JFK Presidential Library and Museum and the In their Own Words essay contest organized by the Gilder Lehrman organization. In addition, Sophia is an active participant in class who is willing to engage in high level discussions of current political events as well as historical events for both world and United States history. It has been a pleasure seeing Sophia thrive in both the classroom and in her work experience at a law firm. It is truly rewarding for me as a teacher to work with such an outstanding and thoughtful young student."
Our career coordinator, Ms. Frazier shared, " I have witnessed this young lady develop both academically and personally into a mature and confident individual ready in every way for her college years. Sofia is bright, energetic, compassionate and genuinely well rounded. Unlike many students who are not sure which field to pursue, Sofia has made it clear to us all that her goal is to be a lawyer. She started her internship last fall where she has skyrocketed, she has been trusted to work independently and has been described as being really sharp and tremendously delightful to work with. She has been exposed to a wide variety of legal matters from divorce to real estate cases. It is clear to me as I hope it is to you that this young lady is an exceptional candidate for D207's Best!
Ms. Block, Sofia's counselor shared, "Sofia has demonstrated that she is a fearless leader, and I am continuously impressed by her maturity and bravery.
As she is committed to improving the lives of others, her goals include becoming a lawyer to continue being an advocate for those who often feel silenced."
When we talked about her future, Sofia was realistic. She said she considered schools based on cost and scholarships because she knows that law school will be quite an expense. Sofia's success speaks for itself. It is her conscientious and humble personality that will continue to pave this path for her. Sofia shared with me that it's nice that people often compliment her skills and accomplishments but she knows how important it is to keep herself in check. Sofia said she always wants to do more and do better. We have no doubt, Sofia, that you will do just that! Thank you for all that you've shared with Maine East over the past four years!
MOHNISH SONI – MAINE WEST
It is my great pleasure to RE-introduce the Board to our 207's Best representative tonight. Mohnish Soni came to our September meeting with other members of the Gay-Straight Alliance to share information about the great work they've done to inaugurate our now-annual Maine West Pride event. Tonight, we honor Mohnish for their excellence in career exploration, but actually their two Board appearances fit together nicely. Mohnish wants to make a career out of community outreach and activism, partly because of the experiences and opportunities they have had at Maine West. "This is work I want to keep doing," they told me. "If I got all these opportunities, why can't everyone else? How can we make sure everyone else gets these opportunities? The systems should be accessible to everyone, not just me."
Among the many lessons Mohnish has learned at Maine West, they have discovered that "Anything you find you want to do, the opportunity to explore it is here. If you make use of the systems that we have, there's no end to what you can do." And so it seems, as Mohnish has used their academic, extracurricular, and internship experiences to find their "why." During their sophomore year, they told me, "I wanted to be six different things." They jumped around in their mind from doctor to actor to entrepreneur. Then they joined Mock Trial, which sparked a deep interest in law. They pursued an internship with SPEAK Des Plaines, a nonpartisan nonprofit that promotes youth engagement in civics. They learned about voter outreach, tuned in to community discussions about policing, and threw themself into our Pride event. In Senator Laura Murphy's office, Mohnish began to understand constituent service and the legislative process, witnessing at a far deeper level what the craft of governance looks like as compared to politics. They know what it feels like to work across cultural backgrounds and generations to build a better community. For this, I feel personally grateful, as I know first-hand how deeply Mohnish's work can impact a community, and I can't wait to see what they will do to help on a bigger scale.
At Maine West, Mohnish has left their imprint on Mock Trial, DECA, the West Side Dance Company, the Westerner, Environmental Club, Gay-Straight Alliance, National Honor Society, Desi Damaka (which is a cultural dance group) and the Principal's Leadership Team. They plan to reboot the business they started with their older sister, ChikkiBar, and begin placing their snack bars in stores again to bolster their college fund. They credit their parents with setting the stage for their explorations, introducing them to numerous activities and modeling what it looks like to engage actively in the community around them. Mohnish has used their opportunities as a Maine West student to become a student of the world. This makes them a tremendous example for their younger schoolmates to follow, and makes our staff very proud.
Ms. Adams has seen Mohnish in action in several important projects outside the classroom. "I have had the great pleasure of working with Mohnish with our GSA and our Annual Community Pride Celebration. Their combined efforts with SPEAK Des Plaines and the Maine West GSA to help create and plan our first ever LGBTQIA+ community event was incredible! Because of their work and collaboration we also applied and received a $10,000 grand from the It Gets Better Project. I am looking forward to continuing to work with Mohnish and I have no doubt that they have a bright, successful future ahead of them!
Mr. Ellefson loved coaching Mohnish in golf, and loves teaching them even more. "I was lucky enough to get to know Mohnish through golf, when they came out for the team as a sophomore. They were always a joy to be around. Their positive energy was infectious, and they were always willing to listen and learn. I feel even more fortunate to have Mohnish as a student this semester in Composition 2. I am so proud of the strong, confident, and fearless person that they have grown into."
Ms. Wisdom can't speak to Mohnish's career explorations, but thinks they are a lovely young human. "Mohnish is a breath of fresh air, unfailingly self-expressed, engaged and enthusiastic. They have a genuine confidence and understanding of who they are, and they create a comfortable space for anyone to be in. Their peers respect them and they work easily with them to contribute to National Honor Society events.
Ms. Mazanowski values Mohnish's four years of contributions on DECA. "They demonstrated great perseverance through the pandemic. After state and national competitions were canceled freshman year, they still joined DECA their sophomore year and competed virtually at both the state and national competition. Mohnish continues to explore and hone their entrepreneurial skills through DECA events as an upperclassperson. Not only are they a strong competitor academically, but their positive attitude and friendly demeanor enable them to make personal connections across the DECA network in the region and the state.
Mr. Ruder appreciates Mohnish's presence on those days when you need them most. "One of the best things about having Mohnish in class is their uncanny ability to put a smile on your face. They are great with people and they have this way of making you think they are excited to see you. We need more people like Mohnish these days. It's hard to have a bad day when Mohnish is in the room."
Finally, Ms. Hansen, who worked closely with Mohnish in charting out their voyage through career exploration, points to Mohnish as a proud example of what the program can be for our students. "Mohnish has exuded a true passion for career exploration since day one. They have utilized classes, clubs, career treks, and multiple internships to help solidify their pathway. Mohnish approaches career exploration with openness and excitement. They embody what we want all of our students to do throughout high school. Their professionalism, communication skills, and willingness to help others is beyond their years."
Thank you, Mohnish, for making the most of every day you're at Maine West. You truly are 207's Best.
MORGAN TIMMONS – MAINE SOUTH
Maine South is pleased to recognize Morgan Timmons as one of 207's Best for Career Exploration.
Morgan has always known she wanted to work in healthcare. She was in competitive dance and acrobatics and had surgery on her shoulder a few times and learned what it meant to be a patient. Because she was in the environment so often, she had many positive interactions with nurses piquing her interest in the field. Currently, Morgan is at Lutheran General Hospital and volunteering on the dialysis floor and mother/baby floor. She mainly stocks supplies, discharges patients, assists NCT's with various tasks, and sometimes readies rooms for patients. She is also in the SEARCH program where she observes different elements of the hospital setting and rotates through their jobs. So far, her favorite is robotic surgery. Her Junior year she worked at Beyond the Bell at Carpenter Elementary School. This is an afterschool program through the Park District in District 64. In the afterschool program, she would organize games, play crafts and watch kids until they were picked up. Morgan is a member of HOSA, medical careers club, and Hawk PRIDE. Morgan is taking the CNA class at Maine South and in her clinicals she enjoys doing things with patients and the reward that comes from it. She was telling me about the satisfaction that's derived from the experience and said, "It's not glamorous work but even talking to patients can make all the difference."
Morgan's counselor, Bill Milano, says, "This fine young woman stands as a goal-orientated and mature individual. She maintains solid grades and participates in a number of events. Morgan remains passionate about studying for a career in nursing and continues to create a strong foundation in this field.Finally, Morgan gained invaluable experience as a volunteer in the pre-nursing program. She shadows nurses in action and learns the importance of proper dialogue and procedure. This fortunate opportunity only solidifies her desire to join the field. Morgan possesses the ability and determination to succeed in college and in life."
Devin McCloskey, Morgan's Chemistry 102 and Physics 102 teacher, says, "I'm thrilled to hear that Morgan was selected for this award! I know at one point she was exploring nursing, and hope that has continued. Morgan was my student for both Chemistry 102 and Physics 102, so I was lucky enough to have her as a student for two years in a row. Morgan is a genuine person who is willing to help her peers out whenever they need it. She is also a student who is great at self-advocating, which is an important skill to have not only in school, but life."
Her Internship Coordinator, Katie Schroeder, says, "Morgan Timmons exhibits kindness and strong work ethic in all that she does. Morgan has such a welcoming personality and willingness to learn that allows for her to have a huge impact on the people she interacts with. Her pursuit to learn about herself as a young professional has been tireless. She has worked as an intern with students at local grammar schools and she has taken on various roles at Lutheran General Hospital. She has received raving reviews from all who interact with her. People who work with her know they can rely on her and trust her. I wish Morgan all the best as she navigates whatever she chooses in the future. She has already built a strong foundation and reputation for herself. I know she will do great things!"
Sarah Kendeigh, Morgan's Math 1 teacher says, "Congratulations Morgan! I am super proud of your work and dedication to bettering yourself during your time here at Maine South. It is awesome to see how far you have come from your freshman year that we had together, and to see the amazing young person you are becoming. I can't wait to see where your next steps take you!"
Morgan's supervisor at Park Ridge Park District, Robin Battaglia, says, "Morgan was a great addition to Beyond the Bell for the year that she worked with us. She had an obvious "Take Charge" attitude that inspired everyone she worked with. One supervisor mentioned after observing the site that "Morgan seems to be running the show." In the year that she worked at Beyond the Bell she was always engaging with the kids, and never once uttered the dreaded phrase I hear too often, "the kids don't listen to me." Kids DID listen to Morgan and she never failed to capture their attention. Good luck to Morgan!"
Georgia Paschos, Volunteer Coordinator at Lutheran General Hospital, says, "I truly feel blessed that I have been part of Morgan's journey and it has been so rewarding to know her and work with her this past year. She is a very special young lady. I find her pursuit of becoming a nurse and helping others very inspirational. Morgan is compassionate about helping others and open to any opportunity at our hospital that would allow her to grow, learn and especially be able to give back to others. Morgan's warm personality, willingness to volunteer and help anywhere in the hospital and her passion to learn and experience as much as possible is what makes her stand out. This is just the beginning for Morgan Timmons as I know she will touch many lives and have a huge impact in providing care, love, and compassion to those in need. Morgan is very driven, hardworking, and passionate about helping others. Advocate Lutheran General Hospital is very fortunate and grateful to have a dedicated and committed volunteer like Morgan and a true leader."
Her Math 3 teacher and Hawk Pride Sponsor, Elizabeth Ball, says, "Morgan is a bright, tenacious, hard-working young person. She readily accepts challenges and exceeds all expectations. Morgan always came to class fully prepared to participate and learn. Whenever she struggled with a concept, she would come to office hours to clear up any confusion. Morgan truly advocates for her own learning. The Math 3 class was taught in a cooperative learning setting, and Morgan was the ideal partner. Morgan is a serious student and fulfills the obligations of her roles. She is equally comfortable leading a problem as well as following someone else's suggestion. Morgan is a natural encourager. Frequently I would hear her tell a peer, "You've got this." She is an exceptionally kind young lady who is tremendously respected by the faculty and her peers. Morgan is respected by her peers as someone who gets the job done, both inside and outside the classroom.
Morgan understands that life is not only about classroom achievement, but also about improving the quality of life for those around her. Morgan is in her second year as a "Hawk PRIDE Leader." As the sponsor of the program I have had the opportunity to witness Morgan's leadership skills in the small group setting. Morgan makes students feel comfortable immediately. Her kind, gentle nature encourages people to engage. Morgan is purposeful in her meetings and students come away from each meeting understanding what they should have learned."
Heather Sinnott, Morgan's Health Care Careers and Medical Terminology teacher, says, "Morgan always came to Health Care Careers and Medical Terminology with a cheerful attitude. She has also been a positive addition to HOSA Future Health Professionals over the last two years. By taking the appropriate classes, Morgan has been very purposeful in preparing for her future. She will have a successful career in the Healthcare field."
Next year, she will attend college to study nursing, potentially in pediatrics. Morgan enjoys working with younger children (baby to year five) and we're excited to see her career progress as she leaves our school!