When we brought students on campus for in-person experiences we learned more about how to facilitate learning in this environment. We have spent the weeks since adjusting our in-person plan to account for those challenges, and in the spirit of serving the greater good, we are putting forth a plan that creates the safest environment for our students, families, and employees.
4th Quarter Schedule
Beginning March 29th we will open our school to anyone who wants to attend in-person instruction four days a week while keeping one day of virtual lessons. We will have special schedules the week of March 29th due to a non-attendance day April 2nd and the week of April 12th due to SAT Testing. You can view the weekly schedule through April here.
Our standard weekly schedule will be as follows: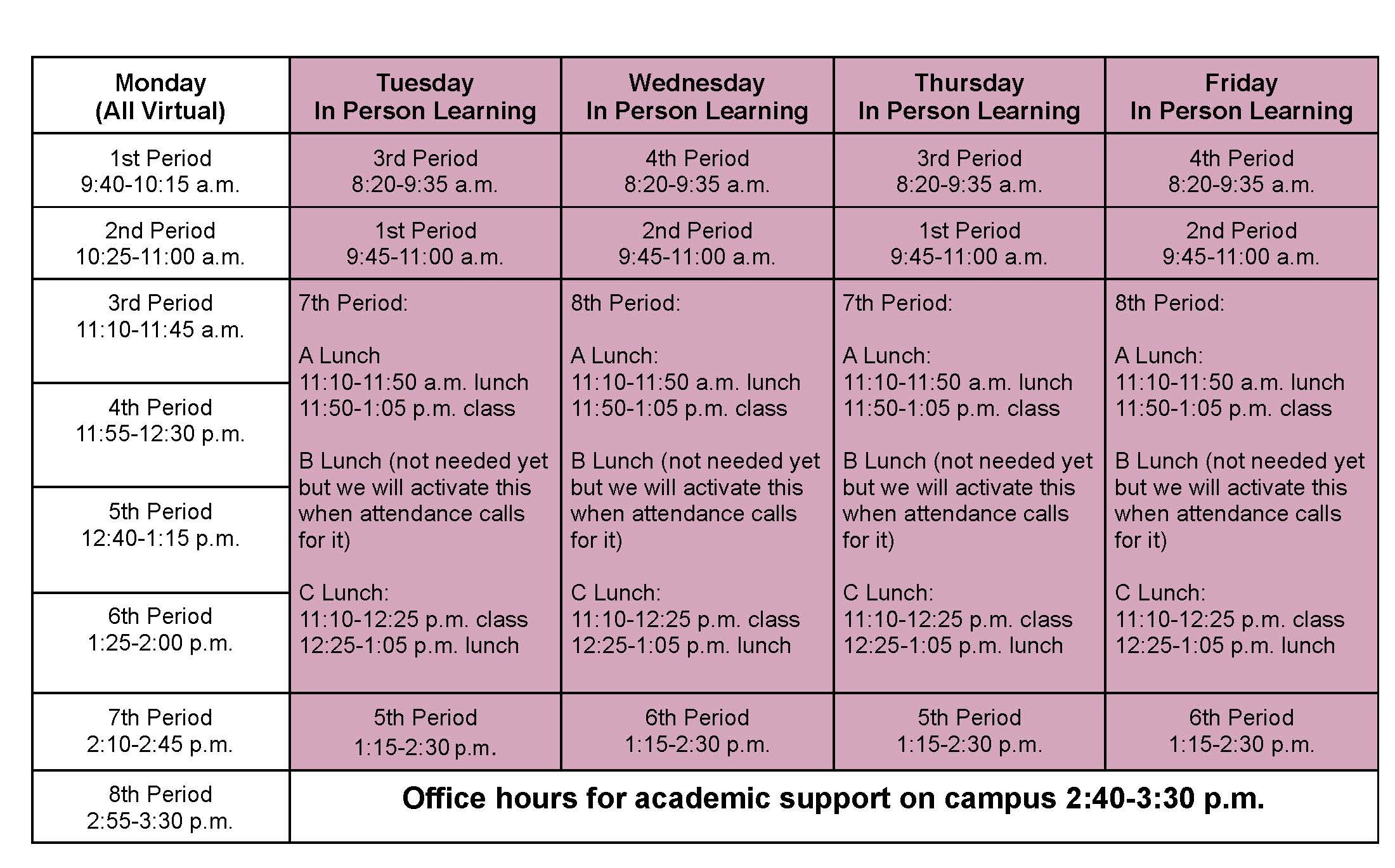 Lunch
As students will be here for full days, we will be offering lunch on campus. You can find your lunch assignment (A lunch or C Lunch) here.
Students can choose to do one of the following during their lunch period:
Bring their own lunch
Receive a free lunch provided by Quest Service –

Families DO NOT have to qualify for the program. Any student needing a lunch should go to the kitchen (near the former cafeteria) to pick up a lunch during their lunch period.

Leave campus – Waiver Required and directions for submitting through Infinite Campus can be found here
Arrival Routine
Doors will open at 7:00 a.m. Students arriving early will be directed to designated waiting areas to allow for social distancing.

All students, faculty and staff will be required to wear a mask/face covering while in the school building. We cannot admit anyone into the building without a mask/face covering. Masks must be worn at all times except when eating during lunch and during socially distant mask breaks as provided.

Temperature checks will be performed on all students, faculty and staff each morning. If any student, faculty or staff member exhibits a fever (100.4 or above), they will be unable to enter the building.

Please allow additional time in the morning for temperature checks and building entry.

There will be four designated entrances/exits for students to enter each morning and exit to leave the building at the conclusion of their school day.

Door #3, Door #9, Door #43 and Door #53

will be used for student entrance and exit.

All students, faculty and staff who enter the building will be required to complete the

self certification questionnaire

each morning and show results upon entering the building.
Parking/Drop-off & Pick-up
Permit Parking
Second semester parking will be permitted for students with

parking permits only at this time

. Student parking is permitted in the following areas: A-wing lot and Northeast lot (behind the fieldhouse). Students may use the following doors to enter the building:

Door #3, Door #9, Door #43 and Door #53

.

All seniors and juniors were provided the opportunity to participate in the parking permit lottery during the first semester. All parking permits have been distributed.
Transportation
Maine Township HSD207 was informed on Aug. 4 that PACE will NOT be running specific school routes indefinitely. This means there are limited routes for students that will pass by or close to our schools. Those routes are posted on the District 207 website at:

https://maine207.org/transportation/

. All individuals on a bus must wear a face covering, no more than 15 individuals will be on a bus at one time, and social distancing will be maintained to the greatest extent possible.
Safety Protocols when Attending Campus In-Person
General:
Please view our safety video for what to expect on arriving at Maine South as well as reminders on safety precautions.

All individuals are required to wear a face covering that covers the nose and mouth at all times while in any school building except those deemed medically exempt by a doctor and authorized by the school administration. Face coverings do not need to be worn outside if social distance is maintained.

All individuals are required to remain socially distant (6 feet apart) at all times when possible.

In order to allow cleaning and sanitizing, Restroom usage will only be allowed during class periods. This will also help to prevent overcrowding and maintain social distancing in the Restrooms.

Signage throughout the buildings will remind everyone of physical distancing and face covering usage at entryways, hallways, classrooms, restrooms, and common areas.

High-touch areas will be cleaned routinely throughout the day.

Hand sanitizer will be available in all learning spaces and areas where food is served and eaten.

Hand washing and the use of hand sanitizer will be encouraged.

Sharing materials will be discouraged. Classes requiring shared materials and equipment will have protocols for disinfecting such between each use.

Staff and students will follow a self-screening protocol each day.
Classrooms:
Classrooms will be clearly marked to show where to sit, stand, or line up for six-feet spacing, if possible.

Students will have assigned seating and be required to remain in these seats to the greatest extent possible.

The maximum number of students permitted in a classroom will align with ISBE/IDPH social distancing guidelines.

Students and staff must sanitize hands whenever anyone enters the classroom.

Classrooms will be cleaned after each change of class.

School ventilation systems will be maximized, i.e. open windows, doors, etc when appropriate.
Lunch:
Students will eat lunch in designated areas that will allow for social distancing and maintaining safety protocols.

Social distancing will be maintained when possible. In large areas, seating will be staggered to avoid face-to-face interaction.

Students will be required to remain in seats to the greatest extent possible.

Students will be required to wear masks that cover the nose and mouth while not eating.
Illness Procedures
Any individual who tests positive for COVID-19 or who shows any signs or symptoms of illness must stay home. Families and staff should report possible cases to the school nurse to initiate contact tracing. Guidelines for students who have symptoms include the following steps: If you are symptomatic and test negative, stay home until symptoms have improved/resolved for at least 24 hours, if you are symptomatic and have an alternative diagnosis, stay home until symptoms have improved/resolved for diagnosed condition, or if you are symptomatic without diagnostic testing or clinical evaluation, stay home for at least 10 calendar days from onset of symptoms and for 24 hours with no fever (without taking fever-reducing medication). Guidelines for students who are asymptomatic and a close contact to a confirmed or probable COVID 19 case must stay home for 14 calendar days after last exposure to the COVID 19 case. Testing negative at any time during the 14 days does not change the 14 day quarantine requirement.
If a student is identified as having had close contact with a confirmed case of COVID-19, the student will be notified and must begin full home learning for a period of 14 calendar days.
For more detailed information please reference our Health Office COVID-19 Guidance information.
Confirmed COVID-19 Case Procedures
Maine Township HSD207 will follow public health guidelines when addressing suspected and confirmed cases of COVID-19 detailed here.
Should cases become wide-spread, D207 will confer with the Cook County Department of Public Health and the Illinois Department of Public Health to determine if the school building experiencing the outbreak must close completely.