Welcome to the 2019-2020 school year.
2019-2020 School Year calendar overview
Entry Doors for Student Arrival
Important dates: August 6 – 13, 2019
| | |
| --- | --- |
| Instructional Material Pick-up (Information) | Tuesday, August 6 |
| First Day of School – FRESHMEN ONLY | Monday, August 12 |
| First Day of School – ALL STUDENTS | Tuesday, August 13 |
| Parking Lottery Applications due (Seniors ONLY) | Tuesday, August 13 |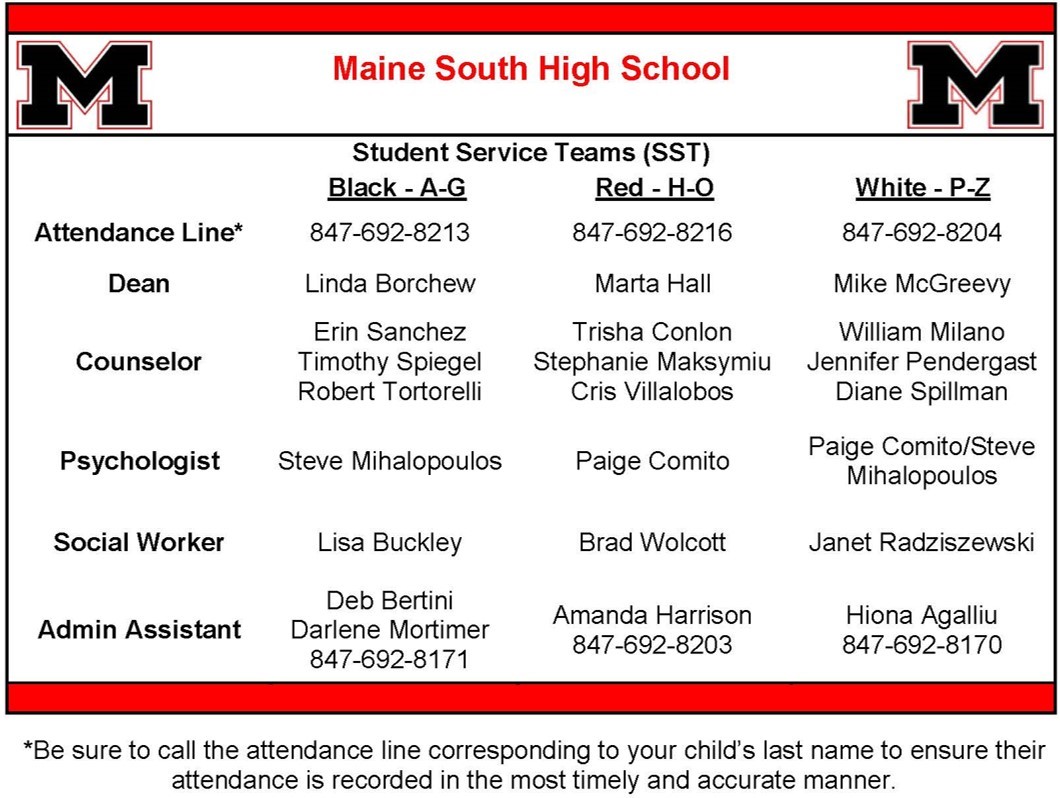 First Hawk Boot Camp
Join us at our New Parent Boot Camp. Even if you have had students attend Maine South before, all are welcome! The school administration will take parents through the basics from student life, to discipline procedures, technology procedures, grading policies, and how parents can engage with the school. There will be a fee of $5 to cover cost of the program and food payable to the Bookstore. Register and choose your session here.
Student Physical Exam Forms & Immunization Records
In order to comply with Illinois School Code, Section 27-8, it is mandatory that all freshman students, students new to high school and transfer students, who were not previously examined for ninth grade, have a PHYSICAL EXAMINATION along with verification of the minimum immunizations on file before starting school. Please read Class of 2023 Physical and Immunizations Requirement Letter.
Physical exams must be completed on the Certificate of Child Health Examination Form.
By May 15th of their freshman year, students in grade 9 are required to have a dental exam on file. School Dental examinations must have been completed within the 18 months prior to the May 15th deadline. This requirement is new and begins with the freshman class of 2023. Dental exams must be completed on the Proof of School Dental Examination Form.
Meningitis Vaccine Meningitis Vaccine Requirement for the Class of 2020 (Seniors) – All seniors must provide documentation of having received the meningitis vaccine prior to the first day of school, August 13, 2019.
Please contact your health care provider to make arrangements to be vaccinated. Please provide documentation to the Health Office. Students will be excluded from school if these requirements are not met. Please contact your physician to obtain the appropriate documentation.
Student Insurance
Maine Township HSD 207 is not liable for accidents which occur at school. It is important to understand the school/district is not responsible for medical payments for your child. If your child is injured during ANY SCHOOL OR ATHLETIC ACTIVITIES, all medical charges are YOUR RESPONSIBILITY. For the 2019-20 school year, the school district has a student/athletic accident insurance plan available for parents/guardians to purchase. Information can be found here.
Chromebook Information
All Maine 207 students are required to have a Chromebook that has been registered with District 207. For detailed information, please see the Chromebook Parent Guide.
Food Service
Maine Township High School District 207, in conjunction with Quest Food Management Services, offers a daily hot breakfast and lunch in our schools. Quest is committed to offering healthy, tasty meals for students. A variety of foods are cooked fresh from scratch in our kitchens each day. Additional information may be found here.
Transportation (PACE)
Students may ride to and from any Maine Township High School District 207 school utilizing service and routes provided by Pace Suburban Bus Service. Ventra cards can be purchased and charged in each school's Book Store. Maine 207 PACE Transit Guide.
Uniform Grievance Procedure
Students or their parent(s)/guardian(s), employees, or community members should notify the District's designated Compliant Managers, if they believe that the Board of Education, its employees, or agents have violated their rights guaranteed by the state or federal Constitution, state or federal statute, or Board policy: Uniform Grievance Form.
Additional Helpful Links
Athletics
Hawk Boosters Flyer
Maine Community Youth Assistance Foundation (MCYAF)
Music Boosters
Parents' Scholarship Club
Speech, Drama & Broadcasting Boosters
Student Parking (Seniors ONLY)