Integrated Career Services
---
The start of high school will be here before you know it and we cannot wait to meet you! We are excited to invite you to our first virtual program for incoming freshmen: A Snapshot of Integrated Career Services. Click here for more details.
Maine South Virtual Freshman Parent Meeting, Monday, June 22nd
---
Welcome to Maine South! As we continue to plan for having your students with us in August and given the times we are in, the school administration wanted to introduce ourselves to you and briefly talk about what we are planning for July and then August (we are working on some great virtual sessions for you and your students). This is mostly geared towards first-time high school parents but all are welcome.
We are going to try and host the meeting on Zoom. Please register one email address per household here. We can have up to 300 families register and if we go over that amount, we'll switch over to our YouTube channel. A link will be emailed out on Monday morning.
I know you have questions about the beginning of school. We are in the midst of planning and waiting for major guidance from the Illinois State Board of Education and Illinois Department of Public Health. We are supposed to receive that information prior to July and our hope is to have our plan formalized soon after that and then published. At Monday's meeting, we won't know answers to lots of questions so this is intended to put a face with the name and give some background to the next eight weeks before school begins.
In order to comply with Illinois School Code, Section 27-8, it is mandatory that all freshman students, students new to high school and transfer students, who were not previously examined for ninth grade, have a PHYSICAL EXAMINATION along with verification of the minimum immunizations on file before starting school. Physical exams must be completed on the Certificate of Child Health Examination Form.
Please remember to complete and sign the health history portion, which will be verified by your healthcare provider. The required immunizations are as follows:
(3) DPT (Diphtheria, Pertussis, Tetanus)
(1) Tdap (Physician identified as such, regardless of the interval since last DTap, DT or TD.)
(3) Polio
(2) Measles
(2) Rubella
(2) Mumps
(3) Hepatitis B
(2) Varicella
(2) Meningitis (MCV4)
For Freshman: Requires one dose on or after 11th birthday.
New! State of IL Proof of School Dental Exam: By May 15th of their freshman year, students in grade 9 are required to have a dental exam on file. School dental examinations must have been completed within 18 months prior to the May 15th deadline. Requirement began with the freshman class of 2023. Dental Exam Waiver Form can also be downloaded.
Religious Exemption: Requires the filing of a signed statement detailing objections to physical exam, health screenings, and/or immunizations on religious grounds. This statement must be signed by the health care provider responsible for performing the child's health exam. The signature indicates that they have provided the parents with information about the benefits of immunization and health risks of communicable disease.
Certificate of Religious Exemption Form
Noncompliance of a current physical and immunizations will delay high school entrance. There will be no exceptions. The completed form MUST be returned to the Health Office or dropped in the main office before JULY 1st. We encourage you to make an appointment immediately.
District 207 discourages taking any medications at school. However, if a student must take medication, including over-the-counter products such as Tylenol, an Authorization and Permission of Medication Form must be completed and on file in the Health Office.
If you have any questions regarding the physical examination and immunization requirements, please call the Health office at 847-692-8199 or email me at [email protected]
Maine South Activities, Athletics, and Fine Arts Fair will take place on Wednesday, March 11th.
This evening is designed to showcase all that Maine South has to offer outside of the classroom. Students and parents will get an opportunity to explore all of the activities, arts, athletics, clubs, and organizations at South and meet with coaches, sponsors, and students.
The evening will begin at 6:30 p.m. Parents/Guardians will begin the evening in the Maine South auditorium where our principal, Dr. Ben Collins, will share with you some insight on having a freshman at Maine South. Class of 2024 students will report to the Spectator Gym where they will meet their Hawk Pride mentors who will introduce them to all the amazing opportunities Maine South has to offer.
After the auditorium presentation, parents/guardians will meet up with their students at the activities/athletics/arts fair in the field house. Together, you will have an opportunity to explore our extracurricular experiences.
This event is another opportunity for you to bring a copy of your student's birth certificate (some of you may have already completed this). You can bring a copy of the birth certificate, or bring in the original and we will make a copy for you. We will have copiers and drop off boxes available in the Back Gym.
Don't worry about making dinner on the 11th because you are invited to join in on a Maine South traditional fundraiser – PIZZA MADNESS!! For only $5 a person you can try up to 10 different pizzas from local pizzerias. This event takes place in the student cafe from 5:00 pm – 7:00 pm.
Below is a map of Maine South to help you find your way.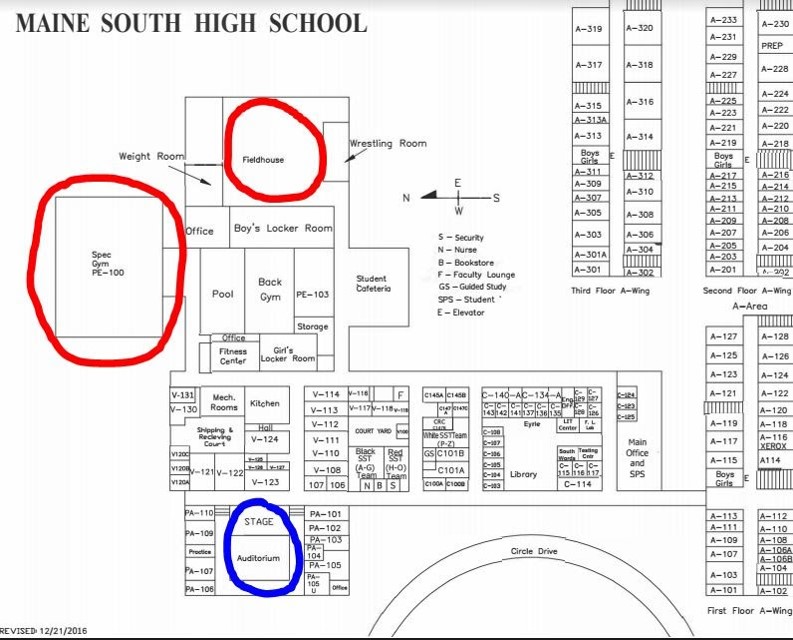 Freshman Registration Kick-Off Presentation Materials
---
Thank you for joining us at the Incoming Freshman Registration Kick-Off Night on Tuesday, December 3, 2019. If you were unable to join us below are links to the materials that were distributed that evening. If you have any questions, feel free to give our offices a call.
Incoming Freshman Registration Kick-Off Night
---
We are excited to invite you to our Incoming Freshman Registration Kick-Off Night on Tuesday, December 3, 2019. At this event, you and your student will receive details about the registration process, the course placement process, and information on the wide variety of elective course offerings for freshmen. Our elective teachers will be available in their classrooms so you can explore courses that your students may wish to take. Additionally, all of our Department Chairs will be present to talk about course options and answer placement questions. Lastly, there will be sessions on Summer School and a session for Special Education students.
In order to accommodate all of our incoming freshmen, please follow the itinerary based on your current school:
GROUP 1 – Students from Emerson, St. Paul of the Cross, and Pennoyer
6:00 – 6:20 pm – General Sessions for All: Welcome and Overview in the Auditorium
6:20 – 6:45 pm – Electives Presentations: CTE, Fine Arts, World Languages
6:45 – 8:00 pm – Electives Open House and Special Sessions
GROUP 2 – Students from Lincoln, Mary Seat of Wisdom, and other schools
7:15 – 7:35 pm – General Sessions for All: Welcome and Overview in the Auditorium
7:35 – 8:00 pm – Electives Presentations: CTE, Fine Arts, World Languages
8:00 – 9:15 pm – Electives Open House and Special Sessions
Please arrive at the Maine South Auditorium a few minutes before your scheduled start time. We are looking forward to meeting the members of the Class of 2024!
Go Hawks!
Freshman Orientation Events
---