The Fine Arts Department seeks to help students find their strengths and to foster all students' creative and artistic instincts. Covering three curricular departments – Art, Music, and Drama/Broadcasting – along with a wide range of extra-curricular programs, Fine Arts provides each student a unique opportunity to develop creativity and purpose.
Maine South Fine Arts presents Chicago:The Teen Edition
April 22, 23, 29, 30 – 7:30pm
April 24 – 2:00pm
To order tickets click here this link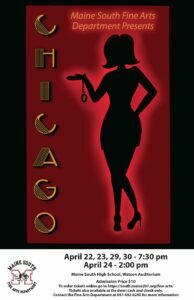 Click on the links below to access the various senior scholarship applications.
Music Booster application will be done on-line and SDB/Thespian should be printed and returned to the Fine Arts office. Deadline for all three applications listed on applications. Late applications cannot be accepted.
Department Administrative Assistant
Karyn Blong
847-692-8240
Faculty Members
---
Music
Name
Courses
Link
Department Chair
Dr. Teralyn Keith
847-692-8239

Advanced Music Theory
Maine South Fine Arts Web Page
Andrew Burkemper

Concert, Intermediate & Wind Ensemble
Matthew Hanes

Chamber, Concert & Mixed Choir, Guitar 1/2, Digital Music & Audio Production
@msouthchoir105
David Hutter

Concert, Intermediate & Symphonic Band, Wind Ensemble, Percussion Techniques
Matthew Nix

String, Philharmonic & Symphonic Orchestra, Piano 1/2, Guitar 1/2
MSHS Orchestra Web Page
Speech Drama
Name
Courses
Link
Karen Hall
Communications for Careers
David Harmon

Drama 1

Patrick Sanchez

Theatre Tech
Carrie Saurer

Drama 1, 2, 3, 4, Theatre Tech
MSHS Drama Web Page

Drama Instagram: @pacting101

Broadcasting
Name
Courses
Link
Phil Ash

Digital Video Production, Theatre Communication
Mason Strom

Broadcasting, Advanced TV/Film

WMTH Instagram @wmthsouth

Visual Arts
Name
Courses
Link
Mary Lee Moore

Design and Materials 2/3/AP, Photo 1, 2, 3 & AP
Cherie Rams

Art 2, 3 & AP Drawing, Design & Materials 1
Greg Regalado

Photo 1/2, Digital Imaging, Art Foundations/Applications
www.gregoryregalado.com
MSHS Orchesis Web Page
Clubs & Activities
Private Music Teacher List
please contact the Fine Arts office with questions regarding upcoming events 847-692-8240
Tentative Calendar of Events – 2021-2022 School year
February, 2022
17, 18, 19 – Winter play 7:30pm
23 – Lincoln Progress Concert 6:30pm & 7:30pm
24 – Emerson Progress Concert 6:30pm & 7:30pm
March, 2022
1- Winter Band Concert 1 – 7:30pm
2 – Winter Band Concert 2 – 7:30pm
3 – Orchestra Solo and Ensemble Night – 4:00pm
8 – Choir Concert 7:30pm
15 – Orchestra Chamber Music Recital night 7:00pm
14 – Speech Drama & Broadcasting booster meeting 7:30pm
17 – Spring Solo Recital Series 6:00
April, 2022
21 – Musical (Senior performance) 4:00pm
22, 23, 29, 30 – Musical 7:30pm
24 – Musical 2:00pm-5:00pm
May, 2022
4 – Film Fest 7:00pm-10:00pm
5 – Spring Band Concert 7:30pm
10 – Orchestra concert 7:30p
12 – Choir concert 7:30pm
19 – Fine Arts Awards night 7:00pm
22 – Norwegian Day parade 1:00pm
30 – Memorial Day parade 10:00am
Patrons of "The Arts"
Patrons of "The Arts" is based solely on donations which are used to enhance the Maine South education by providing guest artist-in-residencies and valuable workshops for students in all areas in "The Arts".
We hope you share our commitment to expand the talent pool available to the Maine South Fine Arts students by becoming a member of the Patrons of "The Arts" and donating to this valuable, philanthropic organization.
Be a "Patron" and lend your support to our students and community by increasing the resources available to our Fine Arts programs here at Maine South and give all our students an outlet for creative self expression!
click HERE for the Patrons of "The Arts" membership form
click HERE for Patrons of "The Arts" newsletter
"Arts education is critical for helping students develop creativity, critical thinking and problem solving abilities."
MSHS Music Booster Org
The Maine South Music Booster Organization is parent run and a wonderful way to support the music programs at Maine South. Through Boosters, the students in Orchestra, Choir, Band, Piano, and Guitar are eligible to apply for scholarships for private lessons, summer camps, and college. During the 2018-2019 school year, Boosters provided over 800 private music lessons, and awarded 7 summer camp scholarships and 16 senior scholarships.
Boosters also provide financial and hands-on help with concerts, equipment, guest musician clinics, travel experiences, snacks/meals, uniforms, etc., and respond to various requests from teachers throughout the year.
Please join The Maine South Music Booster Organization and consider volunteering to support the fantastic music programs at Maine South. Attend our quarterly meetings, follow us on Facebook at www.facebook.com/MusicBoosters and check out our website at www.mainesouthmusicboosters.org to keep apprised of all the happenings and how you can be involved. We are recognized as a 501(c)(3) tax exempt organization, so your membership and any contributions are tax deductible.
click HERE for a Music Booster membership application
click HERE to go to the MSHS Music Booster web site
click HERE for information on the Music Booster Gift Card Sale
Speech, Drama Broadcast Boosters
The mission of the Speech, Drama & Broadcasting Boosters organization of Maine South High School is to support the students participating in these three programs, both in the classroom and as extracurricular activities. Our primary focus is to raise funds and offer scholarships to graduating seniors. In the past three years we have distributed over $35,000 in scholarships. The SDB Boosters support and assist the faculty, the Fine Arts Administration, and the students involved in speech, drama and broadcasting.
The Drama Department produces a number of shows throughout the year. A large part of our fundraising is through raffles, concessions, and flower sales at these performances. TLC dinners are served during tech rehearsals to everyone involved with the production of the fall and winter plays and the musical. The Boosters also support drama at Maine South by hosting receptions during special performances and recognition ceremonies, and assisting the International Thespian Society Troupe with their fundraisers.
The Broadcasting program includes both radio and television experience for students. Funds donated to SDB Boosters have enabled us to assist with updating broadcasting equipment, to host an end-of-the-year reception celebrating excellent work and festival awards, and to provide other support of these students' activities.
Please consider joining Speech, Drama & Broadcasting Boosters. As an added incentive, your membership will enable you to enjoy the benefit of purchasing pre-sale tickets to the Spring Musical. Our meetings are open to all members and are held five times a year. We can always use help with TLC dinners, concessions, and flower sales at performances and many of us really enjoy getting to know each other by working together in support of our children's creative endeavors. Please join, even if you are not available to volunteer. Though most of our members are parents of current students, some SDB Boosters are alumni families or friends from the community who wish to support arts education at Maine South, and we are so grateful to them. We depend on and truly appreciate any donations of time and/or your financial support of the Speech, Drama & Broadcasting Booster programs!
click HERE for a printable SDB Booster membership form.
Available Scholarships
---
Senior & Summer Scholarship Info will be available early 2020