Class of 2025 Events
---
We have pushed back the Freshman Activities/Fine Arts/Athletics Fair to mid-April. An updated schedule of events is below.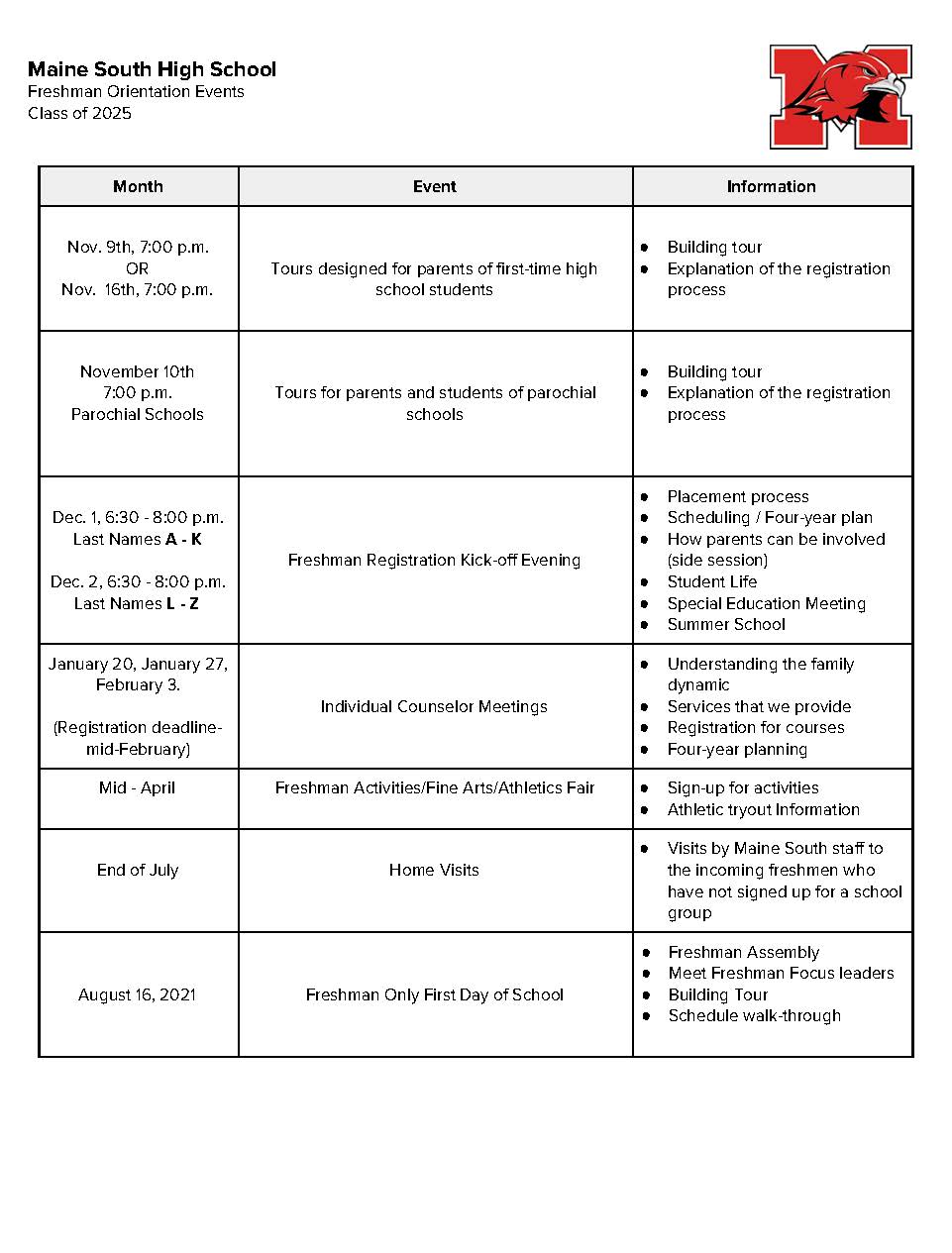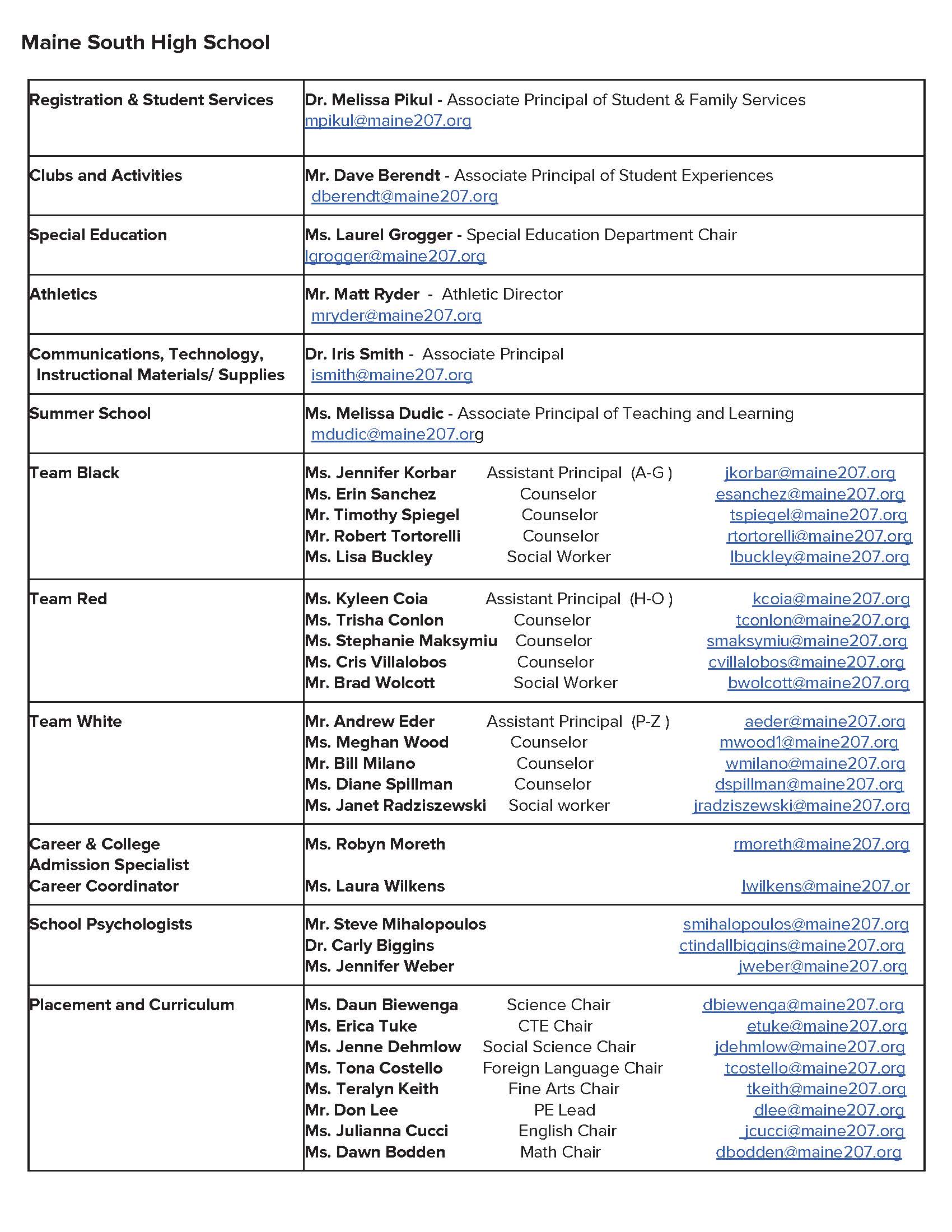 District 207 Language Placement Test - February 4th, 2021 (1:30 - 3:30 p.m.)
---
Please reach out to Tona Costello ([email protected]), D207 World Language Department Chair, if you are interested in taking a language placement test for the 2021-2022 school year. The placement test is appropriate for students that are not currently enrolled in 8th grade Spanish or French in District 64, Pennoyer or the parochial schools. All 8th graders currently enrolled in Spanish or French receive a placement recommendation from their current teacher. The other languages offered at Maine South include Italian, German and Mandarin Chinese. If there are heritage speakers who have been exposed to the language they choose to study or who have participated in a formal educational program, a placement test may also be necessary. All questions can be addressed to Ms. Tona Costello. Thank you!
In order to comply with Illinois School Code, Section 27-8, it is mandatory that all freshman students have a PHYSICAL EXAMINATION along with verification of the minimum immunizations on file before starting school. Physical exams must be completed on the Certificate of Child Health Examination Form.
Please remember to complete and sign the health history portion, which will be verified by your healthcare provider. The required immunizations are as follows:
(3) DPT (Diphtheria, Pertussis, Tetanus)
(1) Tdap (Physician identified as such, regardless of the interval since last DTap, DT or TD)
(3) Polio
(2) Measles
(2) Rubella
(2) Mumps
(3) Hepatitis B
(2) Varicella
(1) Meningitis (MCV4) on or after 11th birthday
New! State of IL Proof of School Dental Exam: By May 15th of their freshman year, students in grade 9 are required to have a dental exam on file. School dental examinations must have been completed within 18 months prior to the May 15th deadline. Requirement began with the freshman class of 2023. Dental Exam Waiver Form can also be downloaded.
Religious Exemption: Requires the filing of a signed statement detailing objections to physical exam, health screenings, and/or immunizations on religious grounds. This statement must be signed by the health care provider responsible for performing the child's health exam. The signature indicates that they have provided the parents with information about the benefits of immunization and health risks of communicable disease.
Certificate of Religious Exemption Form
Noncompliance of a current physical and immunizations will delay high school entrance. There will be no exceptions. The completed form MUST be returned to the Health Office or dropped in the main office before JULY 1st. We encourage you to make an appointment immediately.
District 207 discourages taking any medications at school. However, if a student must take medication, including over-the-counter products such as Tylenol, an Authorization and Permission of Medication Form must be completed and on file in the Health Office.
If you have any questions regarding the physical examination and immunization requirements, please call the Health office at 847-692-8199 or email me at [email protected].
Virtual Electives Fair - Wednesday, December 2, 2020
---
The website linked below provides a grid outlining our academic department chairs and our elective course offerings. The grid has many short video links for each area covering frequently asked questions and other information about course offerings. Use this website on Wednesday, December 2nd, to Zoom with the Department Chairs and Elective Course Teachers to ask questions and help determine which elective courses you are interested in pursuing.
Virtual Freshman Course Registration Kick-Off - Tuesday, December 1, 2020
---
Hello Future Hawks & Parents!
Welcome to our Virtual Freshman Course Registration Kick-Off! While we wish we could have met your family at Maine South this week, the links below will guide you through our course registration process as well as highlight our elective course offerings. We hope you are staying safe and healthy and we look forward to meeting our Class of 2025 Hawks in person at a later date.