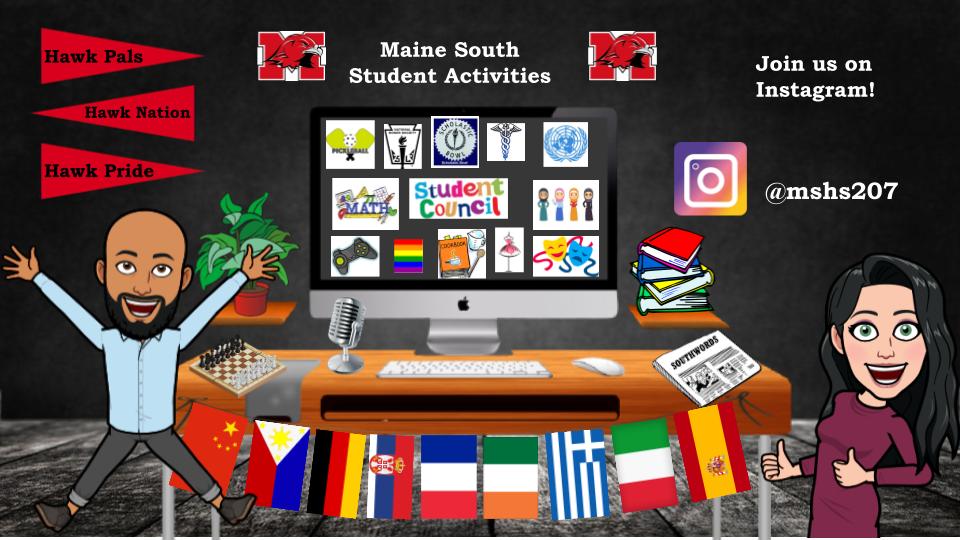 Maine South's Clubs & Activities
Student of the Month: September
Department Contact:
847.692.8217
Department Information:
Maine Township District 207 schools offer extensive opportunities beyond the classroom to engage in learning, self-discovery, and the pursuit of personal interests with like-minded peers. Offering over 80 clubs and activities, students can participate in clubs based on hobbies, academics, charitable efforts, as well as social and political interests. Take a few minutes to explore our clubs listed at the bottom of this page.
Activity Name
Sponsor Name
Social Media
Adventure Club
Brian Fee

Dedicated to building relationships through the love of "adventure." Our love of adventure leads us up rock climbing walls, down white water rivers, orienteering vast forests, competing in adventure races and whatever else happens to cross our paths.

Anime Club
Sarah Kirkorsky , Leah Jackson

Meets weekly to watch and discuss anime, learn about the culture of Japan and go to anime conventions. We also hold sessions on learning the Japanese language. We sometimes have "themes" for a meeting. We often have meetings where Japanese food is enjoyed. Students run all of the meetings.

Art Club
Cherie Tymkiw ,

Directed by a student leadership group that selects and leads bi-weekly arts/crafts activities that are fun, creative and new. You do not have to be in an art class to be a member of Art Club, everyone is welcome to join. Each year we select a design and produce our very popular tee shirt that our membership looks forward to. In addition to our meetings, Art Club hosts two pizza parties around the holiday season with themed projects and fundraising events that contribute to a graduating senior student scholarship in the art department.

Auto Club
Thomas Krause

Directed by elected student officers who meet and share ideas as they relate to the automotive field. You do not need to be in an Auto class to be a member as only an interest in automobiles is required. Club t-shirts, activities, fundraising, and community assiatance projects are just some of the activities the club discusses.

Bass Fishing
Casey Gibbons
Black Empowerment Union
Dara' Fenner , Briquell Collier

The BEU was created to specifically foster a community for students of color and those in solidarity with students of color. The organization's mission is to strive for excellence through creating an inclusive and safe environment where members can embody authenticity and pride about who they are with confidence.

Book Club
Linda Ryan , Suzanne Kowalski

Maine South's Book Club, the Reading Raptors, is open to all students. We meet once a month to discuss books that members have read recently. We also talk about movies and series made from books. We do not usually read the same book. It is a pressure free environment for book lovers of all genres and formats.

Botany Club
Christy Lambropoulos

Botany Club is for anyone interested in gardening with other good, nature-loving people who want to help beautify our campus. During the spring and fall, we may meet to plant annuals, clear up garden beds, transplant plants around campus or get creative in the art room making botanical drawings or ceramic pots of our own! We will also have at least one fundraiser and participate in the schoolwide fundraiser and Homecoming Parade. Anyone is welcome, green thumb or not! We meet in B4 in the visual arts room after school (day of the week TBD).

CEC (Council for Exceptional Children)
Michelle Dwyer

All students are welcome to join this club that celebrates our differences in the company of friends. The clubs goal is to foster understanding, respect and acceptance of individuals with exceptionalities. The club is made up of special education students and peers who want to make a difference in each others lives. We are actively involved in the Maine South community participating in a variety of afterschool social activities.

Chess Club
Cheng Jin , Victor Fuentes

Chess Club competes in the North Suburban Chess League, which is widely regarded as the strongest chess league in the state of Illinois. We also attend regional team and individual tournaments and our season culminates at the IHSA state tournament in Peoria in February where we have won the state championship three times since 2002. We also have many club players who meet informally on practice days to play for fun.

Chicago Metro History Fair
Mike Biondo

Chicago Metro History Fair asks students to complete a research project on an aspect of Chicago History focused on an annual theme. Students report their research in the form of a museum exhibit, video documentary, web site, live performance or a traditional research paper. This competition begins with judging and an exhibition at the Maine South History Fair. If projects are selected to advance, they may continue with the Suburban Regional, City-Wide Finals, State Finals and the National History Day competition just outside of Washington DC. Judging occurs at each level leading up to nationals to determine advancing projects and cash prizes/scholarships are available starting with the city-wide finals.

Chinese Club
Priscilla Chao
Chinese club is an exciting place where people interested in Chinese language or culture can get together, make friends, and learn more about all things China. We are planning many events and activities such as watching Chinese movies, making a trip to Chinatown, calligraphy, papercutting, and more. We encourage cultural diversity, cross-cultural awareness, and making connections.
Class Council (Junior)
Joseph Greguras , Amy Kladis

Junior Class Council is apart of the three-class councils that exist at Maine South High School. We are primarily responsible for two major dances at school, the Turnabout dance in February and Junior Prom in May. We also participate in Homecoming week as well as many other fun activities such as the school-wide fundraiser and spirit week before the Turnabout dance.

Class Council (Senior)
Colleen Hatch , Natalie Wilbur

Senior Class Council Provides leadership to the senior class and represents the class at school and community gatherings. The senior class council provides social, spirit and philanthropic opportunities for the members of its class. The senior class council plans the homecoming dance and senior week activities including senior breakfast and senior prom. All members of the senior class are welcome to attend meetings and be involved in any and all activities.

Classics Club
Jim McGowan

Classics club is a fun place to further knowledge of, discuss and view classic movies and books.

COACH Tutoring
Zanfina Muja ,

Coach Tutoring

provides students with academic support for their courses. Students will be able to schedule one-on-one virtual appointments with Maine South student tutors for academic help in various content areas such as Math, Science, English, Social Science, World Languages, and Computer Science. Students will be able to schedule appointments by visiting the Virtual Tutoring Website created by a Maine South student. Sophomores, Juniors and Seniors are eligible to become student tutors.

Computer Science Club
Erin Grimm

Computer Science Club is for students with an interest in computers. We meet every three weeks or so to talk shop about computers, PC gaming and occasionally service and build computers. We also organize occasional visits to the Ignite Network LAN center and host other social events having to do with computers

Constitution Team
Andy Trenkle , Kevin Hansen , Leah Politi

A competitive academic team that participates in the US Department of Education's "We The People" Competition. The Constitution Team is made up of seniors who are required to present and defend answers to important questions about the Constitution, Bill of Rights, US History and current events.

Debate Club
Cristina Modica

This "fun and lighthearted" debate club is an opportunity for students of all grades and interests to propose and discuss topics of interest, as a way of introducing quick thinking, oracy and rebuttal skills.

DECA (DE & OO)
Johannes Beer , Joe Greguras , Amy Kladis

The Maine South Business Club. Our chapter is part of the national DECA organization of marketing students. Students in DECA compete in business competitions at the regional, state and international level.

Donation Club
Alexa Liakakos

Donation Nation Association. This club was formed to give back to those in need.

Dungeons & Dragons Club
Devin McCloskey

This club is a space for fans of the role-playing game, Dungeons & Dragons, to get together and play. Those who are unfamiliar with the game can join as well to learn how to play!

E-Sports
Victor Fuentes , Greg Reichelt

E-Sports is open to all grades. The club will play games in state leagues like the IHSA but for Esports. There will be a variety of games from MOABs to FPS. This will be a year long club. Students do not need any experience or equipment to join.

EmpoWer
Natalie Wilbur ,

The purpose of EmpoWer is to provide a place for students to discuss, educate, and explore the areas of feminism and human rights.

Engineering Club
Kay Wagner

Engineering Club is a student lead group whose interest is in pursuing a career in engineering. The club changes focus every year to reflect different disciplines such as Civil, Biomedical, Mechanical, and Electrical with the constants being research and discussion of global engineering. The activities have included the following:


IIT Bridge building competition
Hovercraft design
Ballistics device build
Vex clawbot build and competition
Takeda Pharmaceuticals partnership for the STEM learning exchange
Visit by police with Bomb Robots
Field trip to a Civil Engineering firm "

Equinox
Jon Scorza , Jason Marsicano

Equinox is a Maine South student creative writing magazine! We welcome all submissions of original student creative writing and visual art. All students can email their submissions to [email protected]. We would love to have all the imaginative writing, artwork and photography you can send us! Want to help decide what goes into Equinox?

Click the following link to see the 2019 Edition.

EYRIE
Richard Jones , Jim McGowan

Yearbook is open to all students, but an English teacher recommendation is encouraged. The yearbook is student-driven and managed. Student staff members, under the guidance of the Sponsors, create academic, sports, class, club, and candid spreads to commemorate the events of the school year. Yearbook is a year-long commitment, and it requires that students attend a specific class period during the school day. Yearbook requires a "free period" for participation.

Fashion Club
Stephanie Inserra
A non-competitive club for students to become involved in service activities. The clubÕs main goal is to utilize studentsÕ love for fashion and talent for sewing to benefit our community through various volunteer opportunities. Members from this club may also be involved in the planning process of a fashion show. The club consists of students in the Fashion Construction and Fashion Merchandising classes.
FCCLA (Culinary)
Keri Helton

Students who are currently enrolled in Culinary Arts 1 can register as members of Culinary Club. Cooking experiences, bake sales, club run culinary competitions and fundraising activities are planned by the student members and officers who develop leadership skills as a result of participation. Those students who have taken either Culinary Arts 2 and/or Culinary Arts 3 can become registered members of the national organization FCCLA. These students compete in Family and Consumer Sciences events at the sectional and state levels. These events include Salad Demonstration, Cookie Decorating, Cake Decorating or Relish Tray.

FCCLA (Fashion)
Stephanie Inserra

Students enrolled in advance Fashion classes can be registered as members of FCCLA. These students attend leadership conferences and workshops. They also compete in Family and Consumer SciencesÕ areas for Sectionals (February), at the State level (April in Springfield, IL) and at the National Level (summer). These areas include fashion styling, fashion apparel display, fashion construction, (to name a few). Fun, educational, and career related activities are planned by the student members and officers who develop leadership skills as a result of participation.

FCCLA (Pre-School)
Pam Melinauskas

Students enrolled in CCO/Preschool classes can be members of FCCLA. These students attend leadership conferences and workshops. They also compete in Family and Consumer Sciences' areas at the sectional and state level. These areas include but not limited to Preschool Portfolio, Children's Literature, and Children's Lessons. Fun, educational, and career related activities are planned by the student members and officers who develop leadership skills as a result of participation.

Filipino Club
Monica Tipperreiter

Filipino Club's purpose is to create an inclusive space for students at Maine South to celebrate and learn about Filipino culture. At meetings, we discuss traditions and our personal experiences, and during the school year we often have potlucks! Filipino Club is low maintenance and a great place to meet new people!

French Club
Emily Delehanty

Celebrates the French language and culture through a variety of activities including food, film, field trips and other cultural activities. Members of the French Club also seek to be agents of change in the Francophone world as they raise awareness and funds for humanitarian causes in Francophone Africa.

French Club Honor Society
TBD

Maine South's French National Honor Society is for students of French who have maintained a 90% average or higher in French throughout their secondary school study, including the semester of selection and all previous work awarded.

German Club
Margaret Wolf

German Club offers many activities and opportunities for students. Students have the opportunity to get to know other students, enjoy German food and traditions, celebrate German holidays and have a lot of fun together. The club also supports students' interest in using German as a way to travel, compete and succeed. There are a lot of components to German Club. We have something for everyone.

Graphic Arts
TBD

For students interested in graphic arts as a career or just for fun! Projects can be created in the computer lab or Maker Space. We will be helping other clubs and organizations with designing logos, producing t-shirts, plaques, etc. Students will have the opportunity to create personal projects as well!

Greek Club
Alexis Liakakos ,

Greek Club celebrates the Greek culture through a variety of activities including food, film, field trips and other cultural activities.

Green Team
Bart Masellis , Doug Walter , Laura Wilkens ,

The Green Team promotes environmentally responsible activities at Maine South and in our community. The team is involved in picking up litter at the Forest Preserve site across Dee Road and has participated in habitat restoration projects with the Forest Preserve. The team participates in outdoor activities that benefit nature, provide educational learning opportunities, and are a lot of fun. We are open to new ideas and welcome all students who want to help us make a difference in the world we live in.

GSA
Jen Sarashinsky ,

The mission of the Maine South GSA (Gay-Straight Alliance) is to provide a safe space for LGBTQ students and their allies. We work to raise awareness and increase acceptance of students who are LGBTQ, as well as provide a place for all students to positively interact. We do this through sponsoring activities, connecting with other GSA's, education and fun events. The GSA is open to anyone who wishes to create a more positive environment at Maine South High School.

Harry Potter Club
Desi Rae Stricker

It is a place for Harry Potter fans to express their appreciation of the Harry Potter novels and movies through book and movie discussions, crafts, trivia, Quidditch matches and other Harry Potter related activities. It is not required that members have read all of the books, but it is strongly encouraged.

Hawk Nation
Trevor Fritz

Hawk Nation is the student athletic boosters club and is made up of students representing all grade levels. New members can join at any time. We meet once or twice a month to discuss and plan ways to support our student-athletes and spread school spirit. Activities include painting windows to cheer on sports teams, face painting and spirit gear available at athletic events and sponsoring special events at athletic events including free-throw contests, Pink Out! and more.

Hawk PALS
Michelle Dwyer

A service organization whose purpose is to provide peer support to special needs students who may have a significant physical or emotional issue. The main duties of PALS members are to help special needs students navigate the Maine South building, become a peer advocate, become a general resource person and demonstrate typical age-appropriate social skills and model age-appropriate behaviors. An individual must apply and interview to become a member of PALS.

Hawk Pride
Beth Ann Ball , Mike Biondo

An organization that is dedicated to character education at Maine South High School. Hawk Pride members work with their peers in attempting to instill and support the elements of pride, respect, involvement, dignity and empathy throughout the school through the activities of volunteering, character education lessons, role modeling, etc. To become a member, you can apply at the end of your sophomore year and selection is based upon academic achievement, character references and faculty input.

Hawkapella
Matthew Hanes

Hawkapella is a co-ed, student-run a cappella group (think "Glee" and "Pitch Perfect") that meets one night per week and performs on all choir concerts. Membership is open to anyone at Maine South, and by audition in the fall. No experience is necessary, and you do not need to be enrolled in choir to audition.

Hawks for Refugees
Laura Kirshner

This club will work to welcome refugees in the Chicagoland area and educate others on the needs of refugees in the world. Activities include creating welcome kits, hearing individual stories, and working in collaboration with neighboring organizations.

HOSA Future Health Professionals
Heather Sinnott

The mission of HOSA is to empower HOSA-Future Health Professionals to become leaders in the global health community through education, collaboration and experience. The purpose is to develop leadership and technical HOSA skill competencies through a program of motivation, awareness and recognition, which is an integral part of the Health Science Education instructional program.

Humble to One (H2O)
Doug Walter

(H2O) Christian Club's mission is for students to lovingly reach out to others on campus and to grow fellowship with one another. We encourage Christians and non-Christians to join us for prayer, fun, worship, discussions and fellowship.

Investment Club
Johannes Beer , Joe Greguras , Amy Kladis

Investment Club is for all Maine South students who have an interest in investing in commodities. We experiment with investing techniques by using on-line stock market portfolio simulations. We use this investing simulations to run several different investing competitions during the year.

Irish Club
Katie Schroeder , Bob Tortorelli

Open to all students to learn more about the Irish culture through food, music, dance, film and sport. The club meets periodically before school and for club breakfasts and dinners.

It's a Stitch
Christy Lambropoulos

It's a Stitch is a student-run club that meets once a week after school. Students are united by their interest in art, love of working with fiber-based materials and techniques such as embroidery, crochet, and knitting. No experience is necessary, and materials are supplied for most projects.

Italian Club
Cristina Modica , Tina Butera

Italian Club is more of a family than a school organization, we have breakfast together, big family dinners for the holidays and many more fun activities that embody our culture in the best ways. You are not required to be Italian, speak Italian or even take Italian to join. You must merely enjoy the warmth, company and culture of a group of people who love the Italian culture.

JSA (Junior State of America)
Erin Sanchez ,

If you're interested in politics, current affairs, or the upcoming election, then consider joining the JSA Political Discussion Club! This is a club welcome to people of all political ideologies who want to share ideas and learn more about key issues and events. Meetings are held once each month.

Juggling Club
James Depies
Juggling Club meets briefly on Friday mornings to practice juggling. No experience is necessary. In fact, most members joined without knowing how to juggle and learned in the first few meetings. We juggle balls, rings, and clubs. In addition, we have juggling props like diabolos, cigar boxes, and devil's sticks. It is a great opportunity to learn a new skill that you can use for a lifetime with only a 15-20 minute commitment each week.
Key Club
Jim McGowan

(Kiwanis Educating Youth) is a nationally recognized, student-led organization. It was founded to teach and develop leadership by serving others while having fun and making new friends at the same time. The people that we serve include those in need, those in our community and all the people around us.

Latin X
Jennifer Sarashinsky , Eric Santiguilo

Celebrate the Latino culture through a variety of activities including food, film, field trips and other cultural activities.

Maine South Dance Company (Orchesis)
Amelia Faulstick

An auditioned based club in the medium of dance. It is comprised of 20-30 students, freshman through seniors. Orchesis performs numerous times throughout the year with the highlight of the year being our annual concert in the winter that consists of student choreography along with guest choreography. Every other year the company takes an annual performance trip. Orchesis members continue to learn technique in dance as well as choreographic expertise. They grow as dancers, using their creativity and skill throughout the year.

Maine South Hockey Club
Lance Weber

The Maine Hockey Club is dedicated to providing a quality program for the development of high school hockey athletes. The benefits that hockey offers include the meaning of teamwork, life long friendships, exciting physical play, and quality time together.

Varsity and 2 JV teams play between 34-40 regular season league games, primarily scheduled on weekends. Several times during the year, they play back to back games at Oakton Ice Arena, which makes it a fun time for students to come out and support our teams. The league also holds an All-Star Games and Round Robin Playoffs within the Illinois High School Hockey League West Division.

Martial Arts Club (Eagle South)
TBD

Eagle South Martial Arts Club incorporates two traditional Korean styles of karate: Tang Soo Do and Hapkido. Tang Soo Do emphasizes punching, kicking and blocking as a means of self-defense. Hapkido involves joint locks, pressure points and throws to effectively subdue an opponent. There are also opportunities for students to participate in tournaments and belt-ranking, if interested, although these are not mandatory.

Math Team
Peter Nilsen , Mike Guccione , Vicki O'Malley , Erin Grimm

(Math Team) competes against other schools investigating topics that are not often studied in the high school curriculum. We have grade level practices once a week and competitions about once a month. We compete in the NSML and ICTM contests.

Medical Careers Club
Alexis Liakakos

The purpose of the Medical Careers Club is to explore and provide exposure to different careers in medicine, discuss current medical and ethical issues and get first-hand experience in the basics of medicine and medicine-related skills.

Mental Health Club (in association with Erika's Lighthouse)
TBD

Mental Health Club is intended to provide a safe and inclusive environment for students to talk about mental health, bring awareness of the topic to the larger school community, and raise money to support the work of Erika's Lighthouse.

Microlending
Katie Kaye

Microlending Group is an organization whose goal is to complete community service around the area to help raise money in order to loan money to those who are impoverished in order for them to start their own businesses.

Mock Trial Team
Don McArthur-Self , Beth Terpstra

Mock Trial is a selective, competitive club. Team members take the roles of attorneys and witnesses in a trial before practicing attorneys and/or sitting judges. In all tournaments, the team must present both sides of the case in separate rounds. Students should be able to analyze complex information and be willing to see issues from multiple sides, as well as strategize about the best ways to present and argue information in a court under the rules of evidence.

Model United Nations
Megan Smith

Model U.N. is an academic simulation of the United Nations that aims to educate participants about current events, topics in international relations, diplomacy and the U.N. agenda. Participants role-play as delegates representing a nation in a simulated session of a committee of the U.N., such as the Security Council or the General Assembly. Delegates research a country, take on roles as diplomats, investigate international issues, debate, deliberate, consult and then develop solutions (known as resolutions) to world problems. Maine South has been participating in Model United Nations events for over 20 years and attends about 4 to 5 conferences a year.

Muslim Student Association
Kevin Hansen ,

MSA is a nationally recognized club that works towards providing an environment where Muslims and non-Muslims can come together to learn more about Islam and celebrate our differences and similarities. Members can interact with one another through a variety of discussions, activities, and other service opportunities that will be held throughout the year.

National Honor Society
Don McArthur-Self

A national honors organization for secondary school students, chartered by the National Association of Secondary School Principals. The Maine South chapter of the National Honor Society is chartered by the national organization and is governed by the national's rules and its own chapter bylaws. Students with junior or senior standing who hold a cumulative weighted GPA of 3.5 or higher at the close of the previous spring term are welcome to submit additional information for the Faculty to consider. Invitation for membership is based on four criteria: Character, Scholarship, Leadership and Service. Membership invitations are sent after the review deadlines by a Faculty Advisory Council based on examination of transcripts, student-submitted materials, and other relevant school records. Newly-invited NHS members are inducted in October of each year and are expected to maintain high levels of academic achievement, school and community leadership and volunteer service, including a minimum of twelve hours of service every six months. The Maine South National Honor Society seeks to coordinate at least one service project each semester and members are also expected to volunteer as tutors for other students when their schedule permits during the school day.

PAC
Ben Collins

The Principals Advisory Council (PAC) meets regularly with the building administration and with Dr. Collins. These students help with the decision making process about policies, practices, and new initiatives at South. Participation at all meetings and sessions is required and students should consider their own ability for a work load that allows for membership. There is no GPA requirement and students are selected to represent the entire population to the greatest extent possible. PAC executive board members are chosen once the membership is set in the Spring each year. All sophomores though seniors are eligible for participation.

Personal Finance Group
Amy Kladis

The purpose of the Personal Finance Group is to give students a platform to learn more about personal finance and other aspects of financial responsibility.

Photography Club
Mary Lee Moore

Students explore darkroom and digital techniques in artistic and fun ways while creating exciting photo projects geared toward individual and group interest. Photo Club is an excellent opportunity for students to try their hand at photography in a pressure free environment of fellow photo-lovers.

Pickleball Club
Amy Capps , Cris Villalobos

The Maine South Pickleball Club meets weekly to play fun and competitive games. Pickleball is one of the fastest-growing sports in the world and is very easy to learn and play. If you want to have a fun time while getting some good exercise, the Maine South Pickleball Club is for you!

Ping Pong
Robert Brown , Cheng Jin

Ping Pong Club offers students of all levels and abilities an opportunity to join together to socialize, learn and play Ping Pong.

Polish Club
TBD

A culture club that celebrates the Polish heritage and tradition of Polish students at Maine South. We celebrate the Polish culture through food, activities, and friendship!

Project Connect
Cris Villalobos

The CONNECT Program is part of a Youth Development initiative that aims to help students feel more connected to school through one-on-one mentoring relationships with adult staff members

Psychology Club
Natalie Wilbur

Psychology Club is for students who want to explore why we behave and think the way we do. We meet monthly to take a deep dive into an area of psychology such as false memories, mental health, and babies learning language. Meetings consist of experiments, discussions, videos, guest speakers, and whatever students are looking for. Psychology Club is open to anyone and can be a great preview if you are interested in taking AP Psychology.

Rotary Club
TBD

Rotary Club is a nationally recognized organization that works in conjunction with the Park Ridge Rotary Club. Students in this organization volunteer their time to help people in the local community, nationally, and internationally. They commit to working together and putting service before themselves throughout the year.

Scholastic Bowl
Lisa Buckley (V) , Amy Kladis (JV)

Scholastic Bowl is a team academic competition similar to the TV show, Jeopardy. Players with strength of knowledge in one or many areas, including math, science, literature, the arts, geography, government, sports, technology and pop culture are encouraged to join. Practices are 1-2 times per week along with conference matches and weekend tournaments.

School Wide Fundraiser
Mike Edwards

A partnership of students and staff that guide the annual school-wide fundraiser. From selecting the charity to presenting the final check the individuals in this club are involved with the process.

Science National Honor Society
Chris Sayer , Daun Biewenga

The purpose of the Science National Honor Society of Maine South is to continue our school's tradition of scientific and academic excellence. This society aims to encourage students to actively take charge of their scientific education by communicating the benefits that a pursuit of scientific knowledge yields for mankind. Through society-wide projects and activities, students demonstrate a continued dedication for scientific inquiry, becoming well-educated citizens in the process.

Science Olympiad
Kay Wagner

A team of students who complete in various scientific events from testing for knowledge to building and everything in-between.

Serbian Club
Paul Bellisario

Serbian Club is open to all students who are interested in learning more about Serbian culture, food, performing arts, and film. We meet to sample Serbian food, talk about the country, and experience elements of the culture like watching Serbian films or dance performances.

Skills USA
TBD

A partnership of students, teachers and industry representatives working together to ensure America has a skilled work force. SkillsUSA is a national nonprofit organization serving teachers, high school and college students who are preparing for careers in trade, technical and skilled service occupations, including health occupations.

SOAR
Sherrone Thompson , Jen Sarashinsky

SOAR provides programs and space which encourage students to talk and learn about the various effects of racism present in society. It's a brave space to have courageous conversations about race and for students to be advocates for change within the school that help increase and promote cross-racial understanding. We will help students develop leadership skills, increase their confidence in dealing with issues of race in many settings and encourage interracial dialogue and racial consciousness. Help be an advocate for racial change at South.

South Asian Club
Jayati Lunagariya

South Asian Club is a place for all students to learn more about South Asian (the wider Asian nations such as India, Pakistan, Japan, Phillipines, S. Korea and more) culture and have fun.

Southwords
Alexander Stathakis

Maine South's award-winning, student-run newspaper. Students create the newspaper layout, news and editorial content, photography, and graphics. As the voice of the students, Southwords accepts letters and articles from the student body but does not accept advertising of any kind.

Spanish Club
Jose Arguello , Monica Tipperreiter

A student activity organization for students interested in learning more about the Spanish language and the many cultures it embodies. Club activities are organized by an elected group of club officers. Activities include field trips to local museums, breakfasts to celebrate holidays, dinners at local restaurants, cultural activities such as dancing and more.

Spanish National Honor Society
Jose Arguello , Francisco Barbas

Spanish National Honor Society affords the opportunity to members for linking their passion for the Spanish language and culture with doing service. Members look for opportunities to help out organizations that serve the Latino population of the area.

Sports Medicine Club
Jerry Bornhoff
Instructs Maine South students in First Aid, CPR and to disseminate pertinent medical information. To apply learning in a hands-on environment to reinforce the information presented. To expose members to the many career options available in the medical field
Student Council
Greg Regalado , Stephanie Simon

An organization that promotes school spirit and community involvement. Student Council plans assemblies, organizes the Homecoming week, creates spirit events, as well as plans and promotes the food drive, blood drive, and so much more. All students are welcome to join.

Students Against Destructive Decisions (SADD)
Scott Tumilty

SADD is intended to help students make positive decisions during their high school career and beyond. Teach students strategies to avoid harmful habits and promote safer personal choices.

Tea Club
Erin Kainrath

Tea club encourages inclusion and connection between peers over tea! Students will also learn about the history of tea drinking and tea ceremonies across the world and cultures.

The Podcast
Rachel Santucci

The podcast club gives students a platform to discuss and debate podcasts. As the world of podcasts seems to be growing every day, the club is a great opportunity to promote podcasts and learn about new ones. The club also serves as meetings for "Lunch Table Talk", the podcast sponsored by the club. The meetings consist of outlining and planning every episode for the podcast which is recorded in school. All are welcome, experience with technology or podcasts is not necessary.

Theatrical Technicians Guild
Pat Sanchez

Honor club for students who work on the back stage crew. Students are involved in assisting in the community and are the students who assist and help with other clubs theatrical needs.

Thespian Society
Carrie Saurer , Pat Sanchez

An international society of honor for students involved in on-stage and backstage theater activities. As a student gets involved he or she earns points for each theater activity they participate in based on number of hours and difficulty. When a student meets all of the point qualifications they become a member of the Thespian Society.

Tri-M Honor Society
Matthew Nix

The international music honor society. It is designed to recognize students for their academic and musical achievements, reward them for their accomplishments and service activities and to inspire other students to excel at music and leadership. In addition to the honor society, there is an elected Tri-M board that is made up of the following positions: president, vice-president, treasurer and historian. The selection process for Tri-M Honor Society takes place in the spring.

Triathlon Club
TBD

The purpose of the Triathlon Club is to create a community of active and engaged students interested in triathlon. No experience is necessary but an interest in swimming, biking and running is important. The group will bring together students to meet others interested in the sport and to discuss training for and competing in triathlon.

Ukrainian Club
Cherie Tymkiw

Provide students with a space to find others who share their belonging to and interest in the culture of Ukraine. Students will celebrate Ukrainian art, food, music and relevant holidays. They will also share their culture with the wider community and support humanitarian causes specific to Ukrainians and also all over the world.

Ultimate Frisbee Club
TBD

This club is open for students interested in playing Ultimate Frisbee with other high school students of different ages and abilities. It is a no-cut activity. Follow us on Instagram @mshsfrisbee


Under Class Council (Frosh & Soph)
Jason Marsicano , Garrett Fechner

Under Class Council provides opportunities for its members to participate in service, social, school spirit and fundraising opportunities. Various activities are planned throughout the year, including monthly meetings

Varsity Club
Sona Torosian

The purpose of Varsity Club is for varsity-level student/athletes to create community between all sports, engage in community service and advise on matters that support the wider Maine South community & culture.

Vocal Jazz Ensemble
Matthew Hanes

Vocal Jazz Ensemble is Maine South's jazz, pop, and Broadway ensemble that performs at assemblies, on concerts, and around the community. Auditions are in the fall and only open to students enrolled in a choir class.

Wellness Club
Cristina Modica

This club is designed to foster a community of students who are interested in improving or maintaining their overall wellness. Days are devoted to either physical or mental aspects of wellness, such as yoga, walking, meditating, journaling and more!

Windows and Mirrors
Julianna Cucci

Windows and Mirrors is a club where students gather to discuss books taught in English classes at Maine South

WMTH TV & Radio
Mason Strom

Maine Townships own radio and TV stations, gives students the opportunity to broadcast their own shows to their friends, neighbors and relatives in the surrounding communities. In addition to playing music and reporting the latest school news, home football games are broadcast play-by-play and music concerts are streamed live over the internet.

Women in Business
Amy Kladis

This is designed to inform and provide opportunities and exposure to career in business for women of the Maine South community. This includes guest speakers, career experiences and mentorship from women in the field.

Women in STEM
Sarah Gaubatz

This club is designed to provide an encouraging environment where women who are interested in STEM (Science/Technology/Engineering/Math) fields can feel empowered and connect to career opportunities and mentors in the field.

Wrestle Techs
Eve Muir-Wilson

Wrestle Techs are the scorekeepers for the Maine South High School Wrestling Team. We support the team by creating hoops for the home meets, keeping score for the home and away meets, and more.