View our Start of School page for important information regarding the 2022-2023 school year.
In order to comply with Illinois School Code, Section 27-8, it is mandatory that all freshman students, students new to high school and transfer students, who were not previously examined for ninth grade, have a PHYSICAL EXAMINATION along with verification of the minimum immunizations on file before starting school.
Physical exams must be completed on the Certificate of Child Health Examination Form
Please remember to complete and sign the health history (located on top of page 2 of the state form) which will be verified by your healthcare provider. The required immunizations are as follows:
(3) DPT (Diphtheria, Pertussis, Tetanus)
(1) Tdap (Physician identified as such, regardless of the interval since last DTap, DT or TD.)
(3) Polio
(2) Measles
(2) Rubella
(2) Varicella
(1) Meningitis (MCV4) on or after 11th birthday
State of IL Proof of School Dental Exam: By May 15th of their freshman year, students in grade 9 are required to have a dental exam on file. School dental examinations must have been completed within 18 months prior to the May 15th deadline. Dental Exam Form
Religious Exemption: Requires the filing of a signed statement detailing objections to physical exam, health screenings, and/or immunizations on religious grounds. This statement must be signed by the health care provider responsible for performing the child's health exam. The signature indicates that they have provided the parent with information about the benefits of immunization and health risks of communicable disease. Certificate of Religious Exemption Form
Noncompliance of a current physical and immunizations will delay high school entrance. There will be no exceptions. The completed form MUST be in before JULY 1st. Forms can be dropped off at the main entrance, emailed or faxed to the health office. (Fax# 847-292-6528).
We encourage you to make an appointment immediately.
If you have any questions regarding the physical examination and immunization requirements, please call the Health office at 847-692-8199 or email [email protected]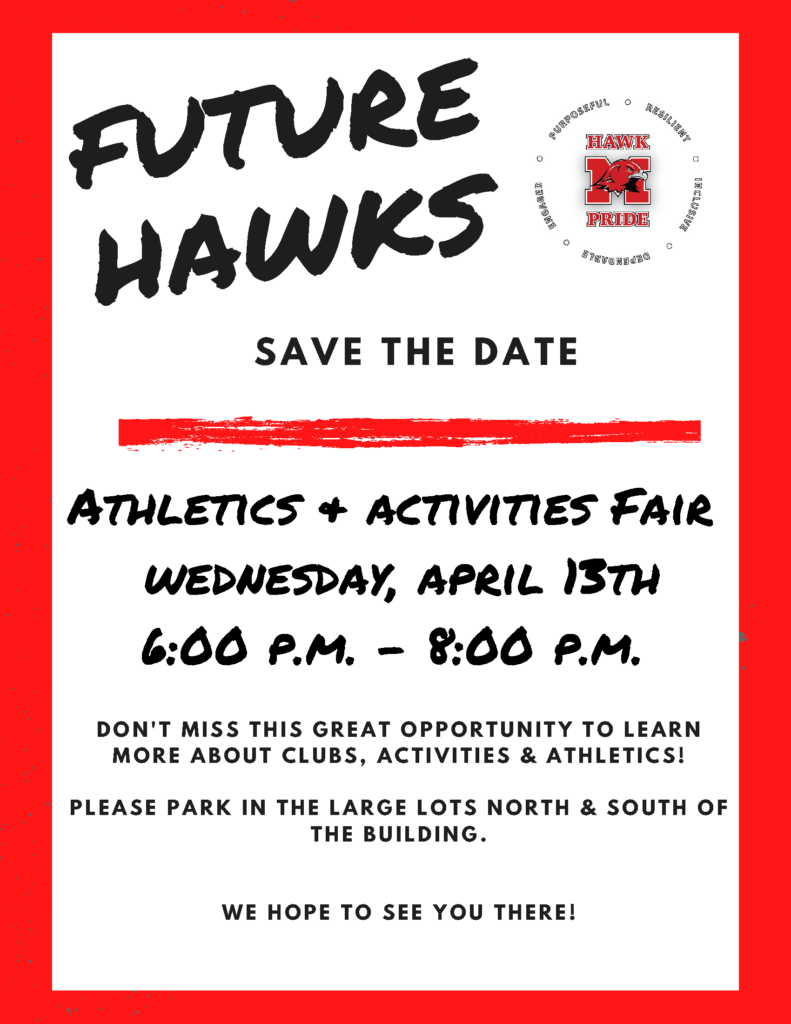 Happy New Year Hawk Families,
Watch for an email by Tuesday, January 11th that will include specific instructions to register for a virtual counselor appointment. Ten-minute virtual appointments will take place between 2:00 p.m. – 8:00 p.m. on January 19th, 26th and February 2nd. In the meantime, please explore the resources below!
FUTURE HAWK FAMILIES
These resources will assist you in planning for your individual counselor meeting which will take place in January or early February. More information will come about how to schedule this meeting. In the meantime, please review these resources:
If you have not yet completed the District 207 Pre-Enrollment process for incoming freshmen, please take care of this as soon as possible. Here is a helpful website with instructions and the link to begin your student's pre-enrollment.
This is a reminder that our Incoming Freshman Kick-Off Event is Wednesday evening, December 1st. We look forward to welcoming you in two groups:
GROUP 1 – Students from Emerson, St. Paul of the Cross, and Pennoyer
6:00 – 6:45 p.m. – Welcome & Elective Courses Presentation: Auditorium
6:45 – 8:00 p.m. – Electives Open House: Commons, Library, ARC, various classrooms
GROUP 2 – Students from Lincoln, Mary Seat of Wisdom, and other schools
7:05 – 7:50 p.m. – Welcome & Elective Courses Presentation: Auditorium
7:50 – 9:00 p.m. – Electives Open House: Commons, Library, ARC, various classrooms
Note these special, optional opportunities families may choose to take advantage of:
6:45 p.m. or 7:50 p.m. – Brief student-led tours: our student leaders will be available to show you around portions of our "B" & "C" wings so that you know exactly where to find the elective teachers you'd like to meet after the auditorium presentation.
7:00, 7:30 or 8:00 p.m. – Presentation for families of students who receive special education services will take place in Advisory Room #1.
7:00 – 8:30 p.m. – Dr. Iris Smith will be in Advisory Room #2 to answer questions about multilingual programming.
6:45 – 8:45 p.m. – Our Career & College Specialists will be available in the Career & College Resource Center to answer questions.
6:45 – 8:45 p.m. – Mrs. Wordel will be available in the main office if you need technical assistance completing the required pre-enrollment.