Maine South Named National Blue Ribbon School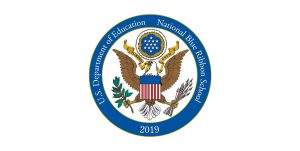 Maine South High School was named a National Blue Ribbon School by the U.S. Department of Education – one of just 362 schools in 2019. There are two categories of recognition and Maine South was recognized in the high performing schools category.
"This honor recognizes the deep dedication of our teachers, staff, administrators, parents and community to the achievement of our students," says Maine South Principal Dr. Ben Collins. "We began this journey a year ago when we decided to submit an application. Having such a supportive community that engages deeply with education is incredible and helped lead to that decision. Our students and staff work hard to achieve great ends and we're proud of our accomplishments. We'll continue making improvements in our school for our current and future students. It's a great day to be a Hawk!"
As part of the rigorous application process, the school shared with the committee that "students who attend Maine South have exposure to one of the most challenging curricula in the United States. Because of this, the average student graduates with close to one year in college credit earned through Advanced Placement (AP) and dual-credit courses at Oakton Community College and Eastern Illinois University. Our goal is to place students in an internship experience before they leave high school; through over 600 business partnerships district-wide, students are able to explore career options in law, finance, hospitality management, and other non-profit and corporate enterprises. Maine South offers nearly every course available through the AP Program and supplements these opportunities with extension offerings ranging from Multivariable Calculus to independent study interests such as machine learning. While completing coursework, students have a tiered return-on-investment (ROI) career and college advisement model that begins freshman year and continues in scheduled advisories with counselors through their senior year."
In addition, the application shared: "At Maine South High School we foster a positive school climate by focusing on building strong relationships between students and staff that are based on respect, kindness, and positive affirmation. We believe that it is important to hear everyone's voice to ensure that students and staff feel that Maine South is their "home away from home." Several times throughout the year students are asked to express their thoughts and opinions by completing surveys developed by the Principal's Advisory Committee (PAC), a group of student leaders advising administration on topics related to school climate. In order to create this culture with staff, administration runs "How Are We Doing?" sessions with each department to gather staff feedback and ideas on how to continue to promote a positive school culture. The deans invite staff to "Donuts with the Deans" where they can engage in open communication about our school trends."
The Department of Education website indicates that the National Blue Ribbon Schools award affirms the hard work of educators, families and communities in creating safe and welcoming schools where students master challenging and engaging content.
The program is in its 37th year and has bestowed recognition on more than 9,000 schools including Maine South previously in 1989, as well as Maine East in 1985 and Maine West in 1991.
On November 14 and 15, the Department of Education will celebrate with the 312 public and 50 non-public school honorees at an awards ceremony in Washington, D.C.
The program recognizes all schools in one of two performance categories, based on all student scores, student subgroup scores and graduation rates:
Exemplary High Performing Schools are among their state's highest performing schools as measured by state assessments or nationally normed tests.
Exemplary Achievement Gap Closing Schools are among their state's highest performing schools in closing achievement gaps between a school's student groups and all students.
As many as 420 schools may be nominated each year. The Department of Education invites National Blue Ribbon School nominations from the top education official in all states, the District of Columbia, Puerto Rico, the Virgin Islands, the Department of Defense Education Activity, and the Bureau of Indian Education. Private schools are nominated by The Council for American Private Education (CAPE).
Full list of National Blue Ribbon Schools for 2019.
Letter to Maine South parent from Principal Dr. Ben Collins.