School Newspaper at Maine South Earns National Recognition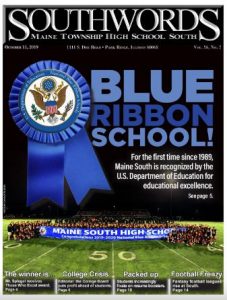 The school newspaper, Southwords, at Maine South High School recently learned it had earned several national awards.
Based on the 2018-2019 critique by the Columbia Scholastic Press Association, Southwords earned a Gold Medalist Certificate from the Columbia Scholastic Press Association. In addition, senior Charlotte Geier was awarded first place in the Gold Circle Awards for her article titled "You Choose: Students Pick the Best TV Shows from Before They Were Born" in the Alternative Story Form category. Katie Carmichael, who graduated in 2019, earned second place for her Sports Commentary, "Sexism Prevalent in High School Athletics."
In addition, Southwords earned a First Class rating with two Marks of Distinction (for Coverage & Content and Visuals) from the National Scholastic Press Association. Also, a cartoon by Shannon McGreevy, 2019 graduate, titled "No exit until passing period" is a national finalist for Cartoon of the Year in the Editorial Cartoon category.
Finally, Southwords was also one of three news magazines in the Midwest to earn All-KEMPA honors from the Kettle Moraine Press Association.