Welcome to the 2023-2024 school year
2023-2024 School Year calendar overview
2023-2024 Regular Daily Bell Schedule
Morning Drop-Off Traffic Flow Map
Afternoon Pick-Up Traffic Flow Map
Entry Doors for Student Arrival
Important Dates: August 14 – 18, 2023

Monday, August 14th
First Day of School – FRESHMEN ONLY
Tuesday, August 15th
Odd Day Advisory Schedule – ALL STUDENTS
Wednesday, August 16th
Even Day Advisory Schedule – ALL STUDENTS
Thursday, August 17th
First Day of Regular School Odd Day Schedule – ALL STUDENTS
Friday, August 18th
First Day of Regular School Even Day Schedule – ALL STUDENTS
STUDENT SERVICE TEAM CONTACTS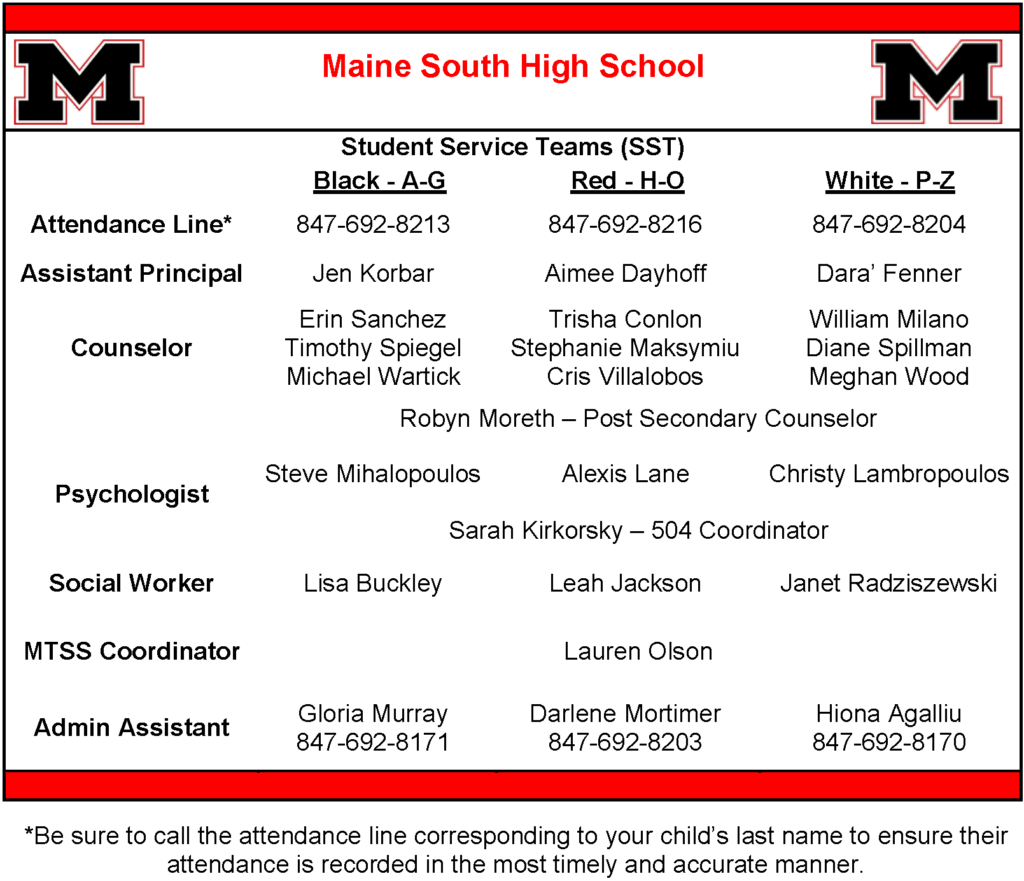 STUDENT PHYSICAL EXAM FORMS & IMMUNIZATION RECORDS
In order to comply with Illinois School Code, Section 27-8, it is mandatory that all freshman students, students new to high school and transfer students, who were not previously examined for ninth grade, have a PHYSICAL EXAMINATION along with verification of the minimum immunizations on file before starting school. Please read Class of 2027 Physical and Immunizations Requirement Letter.
Physical exams must be completed on the Certificate of Child Health Examination Form.
By May 15th of their freshman year, students in grade 9 are required to have a dental exam on file. School Dental examinations must have been completed within the 18 months prior to the May 15th deadline. Dental exams must be completed on the Proof of School Dental Examination Form.
MENINGITIS VACCINE MENINGITIS VACCINE REQUIREMENT FOR THE CLASS OF 2024 (SENIORS)
All seniors must provide documentation of having received the meningitis vaccine prior to the first day of school, August 15, 2023.
Please contact your health care provider to make arrangements to be vaccinated. Please provide documentation to the Health Office. Students will be excluded from school if these requirements are not met. Please contact your physician to obtain the appropriate documentation.
TRANSPORTATION
PACE Bus shared with District 207 recently that school routes for the 2023-24 academic year will run on school days. For more detailed information you may refer to the District 207 Transportation Page.
VENTRA CARD INFORMATION FOR PACE BUSSES
Sophomore/Junior/Seniors: Must complete a form to renew their bus cards to be eligible for the discounted student fare. Click the following link to fill out the Ventra Reduced Student Fare Form: Ventra Reduced Student Fare Renewal Form
Freshman: Can purchase a discounted student fare bus cards for $2.00 each in the bookstore.
All students MUST have the VENTRA APP installed on their phone to load the card and keep track of the balance. If they lose their bus card and do not have the VENTRA APP on their phone. They lose all of the funds on the card that they loaded. The school is unable to track funds.
YEARBOOK PORTRAITS/ID CARDS
Yearbook portraits will be taken the first week of school and the photographers will print the students' ID cards on the spot as part of this process. The schedule for the yearbook portraits is below.
Freshmen – All Freshmen yearbook portraits will be taken Monday, August 14th during Orientation.
Sophomores and Juniors – All students will take their yearbook portraits during PE class. Students who have an odd period PE class (1, 3, 5, 7) will take their picture on Tuesday, August 15th and students with an even period PE class (2, 4, 6, 8) will take their picture on Wednesday, August 16th.
Seniors – For Seniors this is for ID pictures only. Yearbook portraits for seniors were taken over the summer and there will be a makeup date arranged in October for those who did not already take their portrait. All seniors will take their ID photos during PE class. Students who have an odd period PE class (1, 3, 5, 7) will take their picture on Tuesday, August 15th and students with an even period PE class (2, 4, 6, 8) will take their picture on Wednesday, August 16th.
Thursday, August 17th and Friday, August 18th will be held as makeup picture days.
STUDENT INSURANCE
Maine Township High School District 207 is not liable for accidents which occur at school. It is important to understand the school/district is not responsible for medical payments for your child. If your child is injured during ANY SCHOOL OR ATHLETIC ACTIVITIES, all medical charges are YOUR RESPONSIBILITY. For the 2023-24 school year, the school district has a student/athletic accident insurance plan available for parents/guardians to purchase. Information regarding student insurance options can be found here.
CHROMEBOOK INFORMATION
All Maine 207 students are required to have a Chromebook that has been registered with District 207. For detailed information, please see the District 207 Chromebook Information Pages.
CHROMEBOOK PICKUP FOR NEW STUDENTS
New students that have not received their chromebook yet may pick up their Chromebook August 7th from 3:00 to 6:00 p.m. or August 8th from 10:00 a.m. to 1:00 p.m. at the Main Entrance in the Front Circle off Dee Road.
UNIFORM GRIEVANCE PROCEDURE
Students or their parent(s)/guardian(s), employees, or community members should notify the District's designated Compliant Managers, if they believe that the Board of Education, its employees, or agents have violated their rights guaranteed by the state or federal Constitution, state or federal statute, or Board policy: Uniform Grievance Form.
QUEST FOOD MANAGEMENT SERVICES – CAFETERIA
Quest Food Management Services will be opening all the food station lines including offering both breakfast and lunch. The Quest Team is back and busy preparing menus that support our fresh, made from scratch, high quality dining program.
The highlights with regard to cafeteria services this year include:
MyMealTime – Our Online Payment System
District 207 is partnering with MyMealTime for student lunch accounts.
You can utilize MyMealTime to make credit or debit card deposits as well as monitoring your child's lunch balance.
Directions:
You can make a deposit by visiting: www.my mealtime.com. From that webpage, you will need to create a username and password in order to register. Once you are registered, link your student by selecting the "add student" button and find your child's school from the menu. Link the student to your profile by using their student ID number. You can find your child's ID number by logging into Campus Parent. If you are having trouble logging into your Infinite Campus account, please click here for support.
Once you have linked your student to your profile, you can make a deposit. If you would like to make a deposit with a check, please contact your school's Quest representative for more information. Contact information is provided below.
Questions:
Questions can be directed to Quest Food Service.
Nicola DaMato: 847-692-8225 or [email protected]
You can also reach Regional Manager Mark Hannen at [email protected]
Schools are unable to assist parents with lunch balance information.
For Easy Access to Menus download the FDMealPlanner App
If you should have any questions, please do not hesitate to reach out to the Food Service Director, Nick D'Amato, at [email protected] or 847-692-8225.
ADDITIONAL INFORMATION
Student Arrival/Dismissal Procedures
Designated doors for student arrival (prior to the start of the day) are 3, 9, 43, and 52

Doors 43 and 52 are locked at 8:40am (all late arrivals enter from door 3 or 9)

Designated doors for early release (starting at the beginning of C lunch) 3, 9, 43

After school, students are able to leave through any building exit.
Lunch Information
Students in grades 9-11 will be expected to remain on campus for lunch.
All 12th grade students will have the opportunity to earn off-campus lunch privileges. Criteria for off-campus lunch will be shared in an email to 12th grade guardians and students before the first week of school.
Late Arrivals / Early Dismissal – Freshmen/Sophomore
Freshmen and Sophomore students are expected to be in the building by 8:30 am and remain in the building until the end of the day, even if they have an assigned study hall or study options course occurring first or last block of the day.

All freshmen students will be assigned to a Study Hall during their open period.

If a student arrives late or needs to leave early, a guardian must call their Student Service Team (SST) and the student must check in at their SST office prior to going to class or leaving the building.
Approved Late Arrivals/Early Dismissal – Junior/Seniors
Junior and Senior students will begin the year with the opportunity to arrive late or leave early if they have an open block at the start or the end of the day (i.e. study options)

Based upon academic & behavioral performance, any Junior or Senior may be requested to come into the building if requiring intervention

Students arriving late are required to enter in Door 3, 9 or 43. Door 9 and Door 3 are open throughout the first block of the day. Door 43 will be opened 15 minutes prior to the start of the 2nd block.

Junior and Senior students with early dismissal privileges must exit from either Door 3, 9 or 43. Students will be required to use their ID to scan out of the building each day.

Outside of approved late arrivals/early dismissals, if a student arrives late or needs to leave early, a guardian must call their Student Service Team (SST) and the student must check in at their SST office prior to going to class or leaving the building.
Parking
Parking Lottery Application for seniors closed on May 24th.

Seniors who completed the parking lottery application will be notified by August 1st regarding the outcome of the lottery. Please check student emails periodically. Those who were selected to receive a parking permit for this school year will be required to attend a mandatory meeting regarding parking on campus prior to receiving their parking permit. Additional information will be available when students are notified of their parking lottery application status.

Students who were not selected via the parking lottery will be put on a waitlist list if a space becomes available, however that is not guaranteed. If a space becomes available, we will reach out to students directly – please hold off on emailing as we work to get parking permits assigned and distributed.

Juniors are not eligible for parking permits at this time.
School Supply Lists
We do not issue school supply lists as students' schedules vary based on their course selection. Once students receive the syllabuses from their teachers on the first day, they will have the required materials for their specific classes.
Additional Helpful Links
Speech, Drama & Broadcasting Boosters SDB QR Code