Spring Testing
Juniors and seniors who missed the fall administration will take the SAT on Tuesday, April 13, 2021, in-person at school. We are asking students to report to their assigned rooms by 7:45 am. We will send a more detailed email to students with testing information. Taking the school day administration of the SAT is a state graduation requirement for all juniors in Illinois and is free to current 11th grade students. Juniors are already registered for the test through District 207. Additionally, this is a great opportunity for your student to obtain a college-reportable SAT score. This spring, the SAT will not include the essay portion.
The Illinois Board of Education (ISBE) canceled the school day administration of the PSAT8/9 for freshmen and the PSAT10 for sophomores. Monday will remain an 8-period virtual day. We will not have school at all on Tuesday, April 13, while the juniors take the SAT at school. Then on Wednesday, April 14, we will have another virtual 8-period school day. The seniors who registered for the STAMP language proficiency test will come on Wednesday. Then, Thursday and Friday will be block days for everyone. See below for the chart: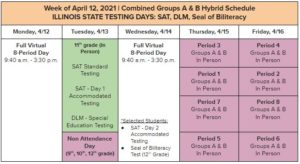 Lastly, juniors will take the Illinois Science Assessment on Monday, April 19, 2021. The ISA is an online assessment, and students will need to bring their fully charged school-issued Chromebook to the exam.
All students in the Junior Class will take the test from 8:20 AM – 11:45 AM at Maine South. Students will be excused from periods 1-3 while they are testing, but should attend their classes remotely at home after testing. However, if a student needs to remain on campus for the entire day, a place to study will be provided and a free lunch will be available. If students are driving to school, they will be able to park on campus even if they do not have a parking pass. Students will receive additional information about their testing room assignments in April.